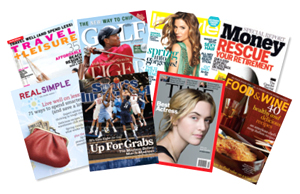 Mega magazine publisher Time Inc. is testing the waters for a free customizable magazine. The five-issue, 10-week experiment allows readers to go online and select content from five Time Inc. and American Express Publishing magazines that will be combined into one magazine.
Time Inc. says it will publish only 31,000 print copies of the magazine, called "mine." After that, the publisher will produce 200,000 digital editions.
"Each issue will include stories tailored specifically to your interests, whether providing timely financial advice, helping to find the perfect golf club or inspiring your next vacation," Time Inc. said.
The eight titles readers can choose from include: Food & Wine, Golf, In Style, Money, Real Simple, Sports Illustrated, Time and Travel + Leisure. Editors will pre-select the stories that will be available for inclusion in mine.
Lexus will be mine's sole advertiser, Time Inc. said.
Time Inc. has been experimenting with new digital business models. In September, it launched Maghound, a virtual newsstand delivery service. Last month, CEO Ann Moore floated the idea of charging for content online.