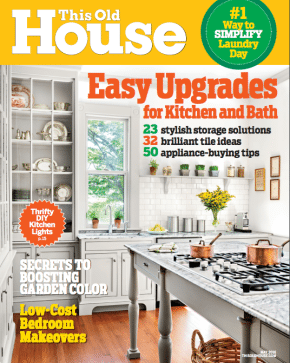 This Old House is moving out.
Former Time Warner executive Eric Thorkilsen, along with private equity firm TZP Group, announced today an agreement to purchase home improvement brand This Old House and all related assets from Time Inc. for an undisclosed sum.
This Old House Ventures, LLC, will essentially operate as a stand-alone unit based in Stamford, Connecticut and responsible for all of its own business activities, although Time Inc. will maintain a long-term relationship with the brand to provide certain back-office functions such as fulfillment services.
Time Inc. began producing the brand's magazine in 1995 before purchasing This Old House outright in 2001.
Thorkilsen spent nearly three decades with the Time Warner up until 2004, including nine years as president of This Old House Ventures. He'll serve as CEO after the sale is completed.
"I have been a champion of This Old House for the better part of three decades and it is an honor to be able to rejoin this extraordinary franchise and bring it to a new generation of fans," said Thorkilsen in a statement. "I could not have made this leap without the support of my partners at TZP, who were steadfast in their resolve that this was a worthy investment."
This Old House claims 5.5 million unique monthly visitors to its website, and circulation has more or less held steady around 950,000 for the last several years, according to the Alliance for Audited Media. Recently, the brand has begun building out more multi-platform offerings to add to its two TV series that have earned a combined 18 Emmy Awards and 95 nominations, according to the brand.
"I thank the This Old House team for their hard work and commitment to Time Inc. over many years," added Time Inc. chairman and CEO, Joe Ripp. "They've got a great new home, and with Eric and TZP Group at the helm, I know they will continue to thrive and succeed."