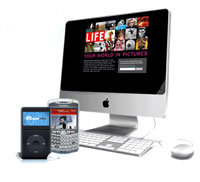 Despite major layoffs at Time Inc., the company says its digital properties are achieving significant growth. At a digital showcase in its New York offices, executives from People, Life and Maghound—its Netflix-like play— gave attendees an update on how their sites have changed over the past year and what's ahead for 2009.
According to a brief overview of the company's digital properties given by EVP John Squires, CNN Money.com saw a 14.4 percent increase in unique visitors year-over-year to 8.9 million, while 2008 presidential election coverage increased Time.com's unique visitors by 41.7 percent year-over-year to 6.3 million. Online coverage of People's Sexiest Man Alive feature also saw an increase—the channel launched on Nov. 19 with 3.5 million unique visitors, up 62 percent over the average weekday in November 2008.
Squires added that the company is also focusing on three other areas of audience growth: social networking (Sports Illustrated's Citizen Sports), mobile (both CNNMoney and People launched mobile sites this year) and video (CNNMoney.com received an Emmy nomination for its video series "Biz Green").
Dave Ventresca, president of Maghound.com, declined to give the specific number of subscribers the site has acquired, but said the feedback has been positive.
"Membership numbers are really starting to ramp up, although we've done very little marketing, which is by design," he said. The company wants to do more "tweaking" and customer behavior research before a major marketing campaign is launched.
People's 'Pets'
According to editor Mark Golin, People.com saw a 36 percent increase in unique visitors (8.6 million) during October 2008 compared to the same time last year. He attributed the increase to adopting a strategy of diversification. "Two years ago, when you went to our site, what you would see was straight celebrity news and photos," Golin said. "But we tried to break it up into separate verticals were we could go deeper and broaden the spectrum of what we're offering."
People.com's StyleWatch channel, where users can read stories about what celebrities are wearing as well as shop for them, has garnered 100 million monthly page views per month and over $1 million in merchandise sales to date. The Celebrity Baby Blog channel gets 30 million page views per month, the company said. People.com's next vertical channel, PeoplePets.com, received 1 million page views during a weekend sneak peek.
"It may sound weird," Golin said, "but I am positive it will work."