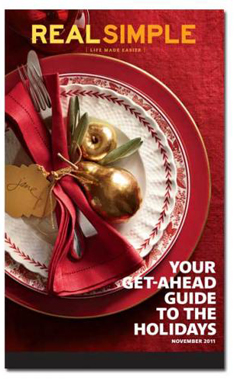 The NOOK Newsstand is getting another addition, Time Inc. has announced that Real Simple magazine will be exclusively sold on the digital platform for the month of November and will begin a full digital integration with the December issue.
"We announced in August that we were going to launch all of our U.S. titles across all of the major tablet platforms by the end of the year," says Perry Solomon, vice president of digital business development for Time Inc. "We've already launched for Fortune, TIME, People and Sports Illustrated, Real Simple is the fifth and newest one that we're putting out as part of this wave. We're partnering with Barnes and Noble with all of our titles as well as the other platforms. The decision to go first with Barnes and Noble was a reflection of the fact that we think the NOOK Color is a great device—based on our research and talking to our audience it seems like the NOOK Color has been well received amongst our targeted demographic and our audience."
Solomon says that Real Simple has done well on in-store newsstands. He adds that the retailer has been proactive in helping to market the title both in stores and online.
"What made a lot of sense to us in bringing Real Simple to the NOOK first was that Barnes and Noble is really very focused on the reader and the reading experience," he says. "They know how to market well to the audience that loves Real Simple and we thought this was a great opportunity to give this a bit more attention and to work with them to market it and launch it on the NOOK."
Time Inc. has taken a stance across its brands to implement a design for tablet model that isn't a straight replication of a print magazine to create a rich interactive experience. Solomon says that the company worked closely with Barnes and Noble to ensure that all of the functionalities of the digital edition were supported.
When asked about the terms of the partnership, Solomon couldn't provide too much detail but did say that, "We've been very pleased that they understand the economics of the publishing business well so we've been able to establish industry consistent economics and we certainly like the fact we've been able to access information about our subscribers, which is important to us, and they understand that's important to us. It helps us grow our business in both acquiring new customers through the NOOK platform as well as being able to serve our existing customers."
Right now, Real Simple is being sold on the NOOK Newsstand for $2.99 a month and a single copy is $4.99. Existing print subscribers get free access to this digital NOOK product.
Though Solomon would not provide specific information on what information Time Inc. is getting from Barnes and Noble about its subscribers, he did say, "Working with Barnes and Noble they understand the importance for us in knowing who are customers are, across the board both in print and in digital. They understand the importance for us to know who they are. It's been a core principal for us as we've looked at these digital partnerships—to know who our customers are and what they want from us. We do feel like we're able to have a direct relationship with the subscriber."