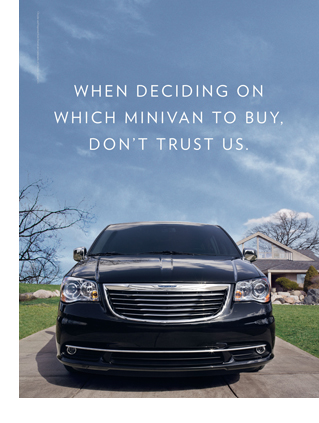 Money is the launch brand for a new custom printing option Time Inc. is offering its advertisers that lets them vary their messaging for targeted markets and audience segments. Called IntelliPrint, it's offered with Money's printer Quad/Graphics and the plan marries Time Inc.'s customer database with Quad's technology to run the customized messaging. Money, says a spokesperson, is the first brand to use IntelliPrint and the company is planning to offer it for other brands as well.
The initiative is being led by Time Inc.'s Branded Solutions group.
Chrysler is the first advertiser to use the program and is running two ad pages as a single sheet insert in the July issue. In this case, Chrysler is running the ad for 350,000 of Money's subscribers in nine markets—Atlanta, Baltimore, Chicago, Dallas/Ft. Worth, Los Angeles, Orlando, Phoenix, Washington, D.C. and New York. Three audience categories were selected for the ad, which features the new Town & Country minivan: families with kids, health and fitness enthusiasts and technology enthusiasts.
Ad messaging will be customized according to the target market and audience segment, and the ads will have a personalized code that can be entered online to get an offer to be redeemed at a local dealership. In this case, the image below—the backside of the two-page ad—is the one that has the custom message and coding.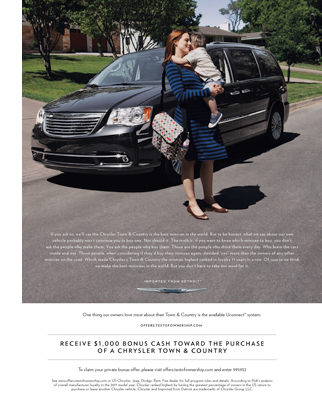 Variable messaging has been an option for advertisers for a while now, but this process, says Time Inc., blends the custom message better with the surrounding ad thanks to higher quality print technology. Previous versions used a lower-quality inkjet process that resulted in messaging that sometimes clashed with its surrounding creative.
Also new with IntelliPrint is the ability to provide a more in-book experience whereas previous variable messaging was offered as a polybagged outsert. Chrysler's ad, for example, will be bound into the issue.