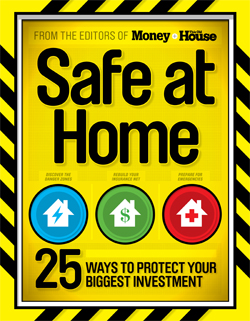 In an effort to cross-brand and better serve audiences that resulted in a unique sponsorship opportunity, Time Inc. titles Money and This Old House partnered on an editorial supplement. The supplementary content, dubbed "Safe at Home: 25 Ways to Protect Your Biggest Investment," appears in both magazines and their online counterparts, as well as in Time Inc. sister publication Real Simple.
Money previously worked with Real Simple on a similar project, producing an editorial supplement for both magazines in December 2011. Money managing editor Craig Matters recalls the experience as, "A stretching exercise in editorial composition."
Scott Omelianuk, editor of This Old House, says of the current collaboration with Money, "When it comes to finances, audiences don't necessarily want to hear from This Old House. But, our subject is often their biggest personal investment. Our consumers are very smart, and want practical content for home ownership. We don't necessarily have all the answers from the money side of it, but to work with a brand that has the same credibility in their space as we have in ours was a great opportunity."
Matters says that once the subject of home protection was agreed upon, the editorial process ran smoothly. Money's design team handled the creative aspect, as This Old House's art team was already involved in a book project. Both edit teams had access to each other's servers, as well as content management systems, to ease the collection process.
Of the collaborative process, Omelianuk says, "At first, both sets of editorial teams were deferential to the other, not knowing exactly how to proceed; but once the pieces fell together, the concerns started to fall away. No one wanted to step on toes, but then it was fine once we realized there were clear delineations in the types of content."


Along with this supplement came a sizeable opportunity for an advertiser. State Farm Insurance hadn't run a print campaign with Money in five years when they reached out to the brand about possibly launching a new awareness campaign. "Their category has become incredibly competitive, and they were looking for new, dynamic ways to advertise," says Money publisher Brendan Ripp. "This presented a unique opportunity for State Farm: this is the first ever collaboration of these two brands, and all the content was going to appear on both the websites. The booklet is also perforated, so the consumer can take it to the computer to take action."
Time Inc. staff involved in the project, which also included This Old House publisher Charlie Kammerer, asserts State Farm had no say in the content of the supplement, and that the sponsorship came after the supplement was already underway. Pricing was reached according to Publisher's Information Bureau standards; the supplement was priced at 4.6 National Equivalent Pages (NEPS) per title, in addition to the digital investment on CNNMoney and ThisOldHouse.com.
For both brand and advertiser, the combined audience reach was a draw of the collaboration. "Publishers love to throw around the word scale, but when you take a look at Money, This Old House, Real Simple, the websites, that total audience is 31.4 million; that's a powerhouse number," Ripp tells FOLIO:. "For a brand looking to do something unique and multiplatform, this was the perfect opportunity for State Farm to make a big splash."
Combined audience reach for the three print titles is 18.5 million.