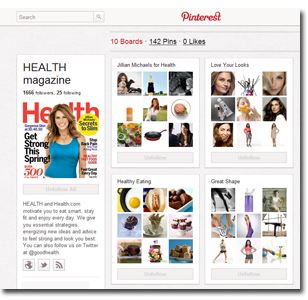 At first glance, online pinboard Pinterest appears to be an incredibly simple social network. Users post pictures in a public forum, "repin" others' images and comment away. However (or perhaps as a result of), Time Inc.'s Health is finding this simple concept is amounting to increased traffic numbers, more engaged users and new readers.
Health debuted its first round of editor-curated boards in October 2011. According to Time Inc. research, Pinterest is now the magazine's number two social media referral site.
"While results are not extremely transparent, from what we've been able to track, a lot of the referrals are new users. It's very exciting," says Tina Imm, the general manager of Time Inc.'s Lifestyle Digital Group.
To capitalize on this new source of readers, Health invited March cover model Jillian Michaels to create her own board. The Pinterest board's debut coincided with a 45- minute interactive Facebook chat with Michaels, all on the same day the issue dropped in late February.
This three-pronged strategy continues conversation from one platform to the next, says the Health team. "Through this, we're able to leverage digital platforms, and turn what was a linear story into a multidimensional story. It really makes a 360-, full-circle experience of the Health brand and the cover subject," says Imm.
Michael's Pinboard includes not only personal photos, but items curated from the pages of the March issue as well. As for Pinterest promotion, Ellen Kunes, Health editor-in-chief, tells FOLIO:, "Michaels is promoting through her own Facebook page, and we've been promoting to our 1.5 million Twitter followers. This is how we're promoting Pinterest so far: through editorial and social."
Exciting as the Pinterest phenomenon may be for publishers, like any new social media/technology arrival, site integration is not always immediately achievable.
"Pinterest is making our products change. What we've done on many of Time Inc.'s other brands (and is slated for Health in the next month or so) is to incorporate a 'social bar,'" says Imm. "The bottom line, whether it's Pinterest now, Google+ three months ago or something else three months from now, it's difficult to update across multiple sites. The social bar is going to fix that, and then Pinterest will launch."
A new readership is only one draw of the burgeoning Pinterest trend: Time Inc.'s sales and marketing teams are currently investigating how to turn pins into dollars. "There are strong ideas we're excited to unveil, based off a lot of learning and conversations with advertisers. Advertisers want campaigns that move people around, and there is a lot in the works with Pinterest," says Imm.