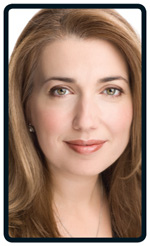 New York – At the 2011 FOLIO: Show, Time Inc. Lifestyle & Style and Entertainment Groups digital president Fran Hauser shared insights into the publisher's digital success. Two Time Inc. titles, People and TIME, currently hold the top spots for most followed magazine brands on Twitter; during a keynote presentation, Hauser explained how this reign is no happy accident.
The need for a timely and well-executed social media presence is top of mind for almost all publishers, regardless of sector or audience. As many remember, this only recently became a pressing concern. Hauser reflected on when she first began at People, when its website was referred to as the ".com", or sometimes simply "the dot". Now, Time Inc. devotes many resources to making its "dot" a thriving web destination.
Time Inc. properties attract 50 million unique visitors, and 40 million mobile uniques. Hauser broke Time Inc.'s intricate digital strategy into three steps scalable to most any publisher, "Create the right organization, invest in tech and focus on relationships."
In order to best place content in the social media sphere where it will glean the most visibility, Hauser and team monitor the arc of the day, tracking when users are engaging with various social platforms.
Hauser also refers to creating a "second screen" experience with the Time Inc. audience. The second screen may be a computer, smartphone or tablet, and it allows users to engage with one form of entertainment while discussing it on another. To achieve this, Time Inc. staff is encouraged to directly converse with users on social media platforms during television shows, award ceremonies, etc. to create a real-time dialogue.
Success in the digital world for Time Inc. also meant creating new roles in-house. This may mean adding on a digital or social editor, or encouraging general managers "to own digital as a business".
"It's not just about evaluating existing roles and creating new ones," says Hauser. "It's about investing in training and tapping into resources both in and out of house."
For Time Inc., this need brought Time Inc. University to fruition. A curriculum of 150 courses on digital subject matter was created over a span of three and a half years to educate and prepare staff for the digital push. Courses included topics such as "The Anatomy of a Digital Start-Up" and "The Key to Selling Digital".
At Time Inc., the relationship between departments continues to be reevaluated for digital success. "It's critical to rethink relationship with IT. It's also important to have front-end web developers allocated to certain brands, and to have input with features," says Hauser. "Some of our best ideas have come from developers."
"Succeeding in digital is not about throwing away old things, it's about finding new ways to use them," says Hauser. "For us, it's about living up to the possibilities."