Time Inc.'s Environmental Impact

The country's largest publisher keeps close tabs on sustainability.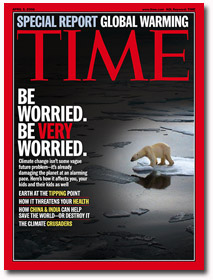 When you're a $5 billion publisher like Time Inc., you can afford to hire someone like David Refkin as director of sustainable development. Indeed, the company has been studying the impact of its entire production process. At the MPA's 2008 Retail Conference in Tampa, Florida today, Refkin discussed Time Inc.'s efforts in environmental sustainability, offering up figures that give some insight into the company's impact:
The company buys 500,000 tons of paper each year from 53 mills.
75 percent of the company's fiber meets certified sustainable forestry (CSF) standards, up 25 percent from 2002.
The carbon footprint of producing one issue of Time is equal to 160 people flying an airplane around the globe.
Refkin also said that only one out of six magazines in the home get recycled, and that Time Inc. has partnered with Verso Paper to increase consumer awareness, spending $5 million on outdoor advertising and another $6 million in magazines to push recyclable messaging. To learn more about the publisher's efforts, keep an eye out for its sustainability report due out in April.
Meet the Author
---