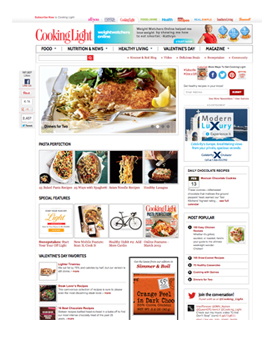 January was a big month for Time Inc.'s Cooking Light as the brand showed significant growth in key metric areas including unique visitors, page views, natural search, social media referrals and mobile traffic. Though the year's first month traditionally draws considerable growth for the brand, the Cooking Light team is developing plans to capitalize on the growth and ride the momentum through the rest of the year. 
"January is Cooking Light's moment," says the brand's digital editor, Allison Long Lowery. "People are searching for low-calorie and healthy recipes in January like it's nobody's business. We know that (healthy cooking) can be kind of a fad in January, but we don't want it to stop there. We use the moment to grab them and keep them coming back."
Last month, the site grew to 2 million unique visitors and 20 million page views, a 47 percent and 57 percent year-over-year increase, respectively. Natural search was up 34 percent and social media referrals were up 114 percent. From its launch in February 2012 to the end of the year, the Cooking Light mobile site grew by 106 percent. Long Lowery says the brand has introduced new strategies to ensure these traffic numbers continue to grow.
"We retooled our Monday newsletter, which is nutrition focused, to 'Start Your Week Off Light,' because our 'Start Your Year Off Light' editorial campaign was a success," she says. "Pinterest is hugely important for us right now. Search was a big part of our growth in January but social referrals was the number two reason and it was primarily from Pinterest."
CookingLight.com is adapting programming based on Pinterest, much like it has done for Google Analytics, since the topic of food is particularly popular on the social media site.
"I can check any moment of the day what people are pinning and I can adapt my homepage based on that," says Long Lowery. "We'll sometimes adapt our homepage schedule based on Pinterest trends. We might know when salad content, for example, will start peaking—we might think it will peak right before Memorial Day and it peaks early. We'll program our homepage with salad content or put up a blog post. For the Super Bowl, we noticed a lot of people were pinning pepper poppers. We rescheduled our homepage to make sure one of our healthy pepper popper recipes was on the homepage."
In addition to using Pinterest to adjust homepage editorial programming, trending topics on Pinterest are also examined for other social media strategies. If a specific food topic is getting a lot of pick up on Pinterest, the Cooking Light team will also push out related content to its Twitter and Facebook pages.
For CookingLight.com's mobile site, Long Lowery made the push last year to ensure it is user friendly since many users engage with mobile food content while they are in-store.
"My homepage flows right into the mobile site," she says. "They really use our site to plan their meals and with mobile they're doing it on the fly. Mobile is—across the board—mind-blowing in terms of how fast it's growing."
Having a strong social, digital and mobile presence is something Cooking Light can offer to its advertising partners, according to the brand's publisher.
"Long gone are the days of sheer numbers and we're really playing that up with our audience," says Cooking Light publisher Karla Partilla. "It's the multiple touch points we offer them—Facebook, Twitter, Pinterest or the video components that we have. Advertisers are coming to us for the overall experience."
Stay updated on the latest FOLIO: news, follow us on Facebook & Twitter!