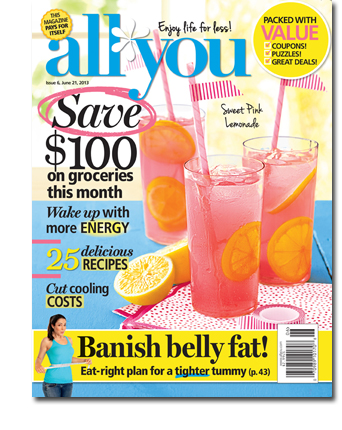 Time Inc.'s All You has added shoppable capabilities to its tablet edition. Starting with the May issue, customers using an iPad or Kindle Fire can tap a "shop now" icon to see where the product is for sale with a direct link to purchase.
The print magazine, sold through Walmart, some newsstands and through regular subscription channels, is commerce-oriented title as it is and adding an m-commerce capability to the tablet edition taps into reader behavior already in place. In a recent survey conducted by All You and Insight Strategy Group, 62 percent of a mix of All You subscribers and other women look for product deals on their smartphone or tablet. "Ninety percent of women in the survey think of themselves as smart bargain shoppers," says George Kimmerling, All You's deputy editor.
The shoppable function, provided through a partnership with app commerce services provider ShopAdvisor, also allows the user to tag an item to monitor it for price drops. This function requires an email address, and a price change on an item triggers a message back to the reader.
Time Inc. is in a pilot phase with ShopAdvisor with All You as the lead brand on the project. In the meantime, says Kimmerling, they'll be watching metrics on engagement rates with the different shoppable pages, how many people buy versus watch a product, as well as the standard tablet edition engagement metrics.
To make each issue shoppable, editors go through each print version and identify every page that has a product credit. Editors use a dashboard provided by ShopAdvisor that works with the PDF files to tag each item. Those files then get sent to ShopAdvisor, which links each item with the appropriate pricing information and then sends them back to the editors who then proof the files to make sure the links, products and images correctly match up.
"What's nice about the application is it's iterative," says Kimmerling. "Once it launches we can keep updating those links while the issue is live. We can make tweaks to try to encourage more success on the part of the users to better get to the point of purchase."
And that shopping-related engagement, adds Kimmerling, remains in the app itself. "You don't ever leave the tablet edition to shop," he says, "which is really great for us because we're not losing people."
So far, the business model does not involve any kind of revenue share on purchases. The emphasis is on improving engagement and download rates with the tablet version. Down the road, adds Kimmerling, there might be a stronger advertiser tie-in opportunity, but for now it's all about watching how readers engage with the shopping functions during the pilot phase.
As is Time Inc.'s model, print subscribers get the tablet version for free. New subscribers currently get a free 30-day trial, then pay $19.95 per year. As of now, there are 18,500 digital-only readers on the iPad and Kindle Fire, says a spokesperson, with those two platforms making up about 80 percent of All You's total digital readership. Readers spend an average of 26.2 minutes with the tablet version.