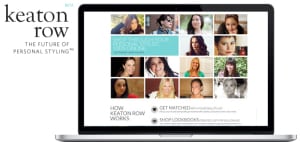 Time Inc. established itself as Keaton Row's lead investor in its Series A funding round, according to a company statement on Wednesday.
The investment secured Time Inc. a seat on the two-year-old online fashion marketplace startup's board of directors. Neither party has disclosed financial terms of the investment. But according to Fox Business News, Keaton Row already received more than $4 million in investments from a group that includes Menlo Ventures, Rho Capital and Grape Arbor Venture.
Time Inc. suggests this is just the first step of a more comprehensive e-commerce strategy. "As we build out our fashion and beauty network, e-commerce will serve as a cornerstone and this is the first of several opportunities we're considering," says Evelyn Webster, Time Inc. EVP, in a statement. She goes on to say, "Keaton Row's peer-to-peer social commerce model matches our sensibility and will open up an arrary of e-commerce opportunities. We are excited to explore how our premium content can enhance the Keaton Row Marketplace and help fuel the growth of its business."
InStyle will be one of the expected brands to develop synergies with Keaton Row. Not only does it purportedly have a total brand reach of 21 million, but it also claims that 83 percent of its readers look to it for shopping advice.
The first round of funding is expected to enhance the user experience and utility of Keaton Row's mobile product.