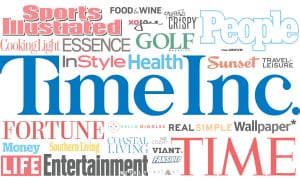 Time Inc. has made yet another change to its staff lineup. Today the company named Lauren Ezrol Klein its executive vice president, general counsel.
Klein, who most recently served as senior vice president and deputy general counsel, will succeed Lon Jacobs. Jacobs is said to be leaving the company on September 2.
"With her experience and skills, Time Inc. is very fortunate to have someone of Lauren's caliber take on the critical general counsel role. I'm delighted to have her on my executive leadership time," Time Inc. chairman and CEO Joe Ripp said in a statement.
Klein joined the company in 1996, and has worked on the majority of Time Inc.'s significant acquisitions, dispositions, and other corporate transactions. She played an integral part in Time Inc.'s spin off from Time Warner Inc. in June 2014.
As SVP and general counsel, she oversaw the Time Inc. corporate legal group, and managed the department's M&A and securities function, working closely with the Board of Directors.
The company has made a number of acquisitions in recent years, most recently buying Viant, the owner of MySpace. Given Klein's extensive background in M&A, it's likely this will be a major focus for her.
The move comes in the wake of extensive restructuring at the company, which began with Alan Murray succeeding Norman Pearlstine as chief content officer. Rich Battista was also named president of brands, while Jen Wong became head of Time Inc.'s creative studio, The Foundry, among other changes.
Shortly thereafter, Time Inc. split its titles into four groups — Celebrity, Entertainment and Style, News and Luxury, Lifestyle, and Sports — each of which is led by an editorial director.
The brand then added the position of group general manager to its revamped brand group structure. Meredith Long was named SVP and GM of the News and Luxury group, Susan Parkes was appointed SVP of the Brand Marketing and Communications group, and Bruce Gersh became SVP of the Brand Business Development group.
Only two days later, the company unified its sales force by dividing advertising and marketing into category, brand, and digital sales, and eliminated the title of publisher.
Following all of those changes, company-wide layoffs hit the company, with reports that as many as 110 employees will be let go.