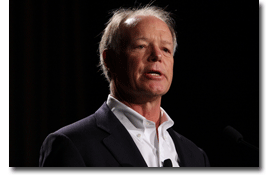 Time Inc. has named John Q. Griffin, former president of publishing at the National Geographic Society, as executive vp and president of its newly formed News Group, overseeing TIME, Fortune and Money magazines as well as their respective Web sites and CNNMoney.com and Life.com. Kim Kelleher is promoted to publisher of TIME and Brendan Ripp to publisher at Money.
Griffin [pictured] spent nine years at National Geographic before announcing his retirement in October (he also stepped down as chairman of MPA that month as well).
Time Inc. also created a new Sports Group that will be headed by president and 25-year Time Inc. vet Mark Ford, who served as president of the previously combined News & Sports Group for the past two years. Ford, who was promoted to executive vice president of Time Inc., will report directly to Time Inc. CEO Jack Griffin (no relation to John Griffin).
"Putting Sports and News into new groups will enable both to build on their leadership positions and continue to distribute our content in new, innovative ways," says Jack Griffin in a statement. "We will also be better focused on expanding our events businesses and growing our significant international footprints."
Earlier this month, Time Inc. revamped its corporate sales and marketing structure, promoting Stephanie George to executive vice president and chief marketing officer and Paul Caine as executive vice president and chief revenue officer and putting more of a focus on marketing services.