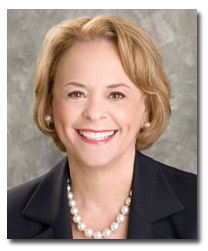 As the sustainability of free content online continues to be debated, Time Inc. CEO Ann Moore said the mega publisher is considering taking a major step in the paid content direction: by making Time.com and People.com subscription-based.
"I think it is time for Time Inc. to sit down and seriously think, what is the model," Moore [pictured] told England's Telegraph newspaper. "We are going to have to figure out a way to have paid content in the future."
A company spokesperson declined to comment on Time Inc.'s online revenue.
Time.com posted roughly 30 million page views in mid-December, after Barack Obama was announced Time's 2008 Person of the Year. Meanwhile, People.com in 2008 reported 46 percent year-over-year growth (compared with the industry average of about 10 percent), including an average of 8.6 million monthly uniques—a 36 percent increase year-over-year.
The spokesperson told FOLIO: that paid content is one of several alternative revenue sources the company is considering. "If we did have a paid content area online, it would just be for select content—a majority of content on Time Inc. sites will remain free," the spokesperson said.  "We're also looking at devices like e-readers which obviously have both a subscription and advertising stream as well as micro-payments for things like select iPhone applications."