Is Time Inc. Inching Toward a Sale?

In London, CFO does not rule out flipping of some titles.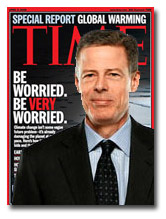 Addressing a media conference in London, Time Inc.'s chief
financial officer John Martin said he expects the Time Inc. publishing unit to
be a "growth business," despite a "difficult secular
environment" in print advertising, according to a Marketwatch report.
Here's the important part: "Digital revenues are now close to 15% of all
revenues at Time Inc.":
Martin did not rule out the sale of certain magazine titles,
but added that one thing necessary to make the business grow is "economies
of scale," and thus Time Inc. must maintain a strong roster of
publications.
It seems like every time a Time Warner executive speaks
about the future of Time Inc., it's in decidedly cryptic drips and drabs, and
no real numbers attached. So Martin's were, at once, refreshing/maddening.
But he's clearly been following the path Jeff Bewkes, Time
Warner CEO [pictured], his boss, has been laying out ahead of him. Here's what Bewkes said in
February:
"We're good at publishing. We're a leader in the
industry. It's a good business we think. As it expands out beyond print into
digital we think it can turn into a growth business," Bewkes said, adding
that keeping Time Inc. intact "depend[s] on our being able to demonstrate that
to ourselves and our investors."
All of this is reason enough to dust off this post, entitled
"What a
Time Inc. Spin-Off Might Look Like."
Meet the Author
---