With use of social media reaching near ubiquity among the U.S. population, its importance to publishers cannot be overstated. Twitter, specifically, has emerged as one of the most important platforms in the space, which has resulted in magazine publishers scrambling to up their number of followers.
According to MagazineRadar, which tracks 5,000 titles on a daily basis, Time Inc. dominates in number of followers among magazine brands on the site, with five titles in the top 10, four of which are in the top five.
As of yesterday, People leads the way with more than 3.5 million followers; Time is close behind, with 3.2 million followers, while InStyle, in the third spot, trails by 1 million, with an audience of 2.1 million.
Fairchild Publications' Women's Wear Daily breaks up Time Inc.'s top five dominance, taking the fourth tier position with its almost 1.99 million followers. Entertainment Weekly trails behind just slightly, with 1.97 million. (Entertainment Weekly broke 2 million later in the day.)
Even with so many followers, People is still seeing growth, with the number increasing 4.19 percent in just the last 30 days. Of the top ten, National Geographic saw the most growth in the last month, with an 11.48 percent increase to 1.48 million. The Economist saw the second-largest amount of growth, with an 8.64 percent increase to 1.68 million.
Engaging Followers
But while a high number of followers is certainly an advantage, it's how publishers are engaging with them that, perhaps, matters most.
"You've only got a few seconds of someone's attention (at best) on Twitter," Time's social media producer Allie Townsend told FOLIO: last year, "so what you're writing needs to earn their click. Don't be afraid to be urgent, funny, maybe even a little sarcastic if the story calls for it."
"With magazines in particular, there's a temptation to send out headlines and get people to click on them," Solar Industry editor Jessica Lillian said at the time. Her magazine, which serves solar industry professionals, has 15,979 followers. "You have to surround that with conversation; engage, reply and talk to followers."
Measuring Social Media Reach
While Time Inc. magazines have clearly emerged as leaders on Twitter, it can be difficult to quantify a magazine's total reach on the site because many brands have more than one handle, each of which may have an overlapping audience: While @glamourmag, for example, currently has 166,208 followers, its @glamour_fashion handle has 255,255.
Also, a magazine may be strong on one platform but not so much on another. Playboy, for example, has only 420,330 followers on Twitter, says MagazineRadar, while it leads in Facebook "likes" with more than 5.5 million. People, on the other hand, has just over 1.5 million Facebook "likes."
Meanwhile, other important platforms continue to emerge. Time Inc. has put a significant amount of attention into Pinterest, which is the second biggest social media referral site for its Health. Meredith's Better Homes and Gardens has also been a leader on the online pinboard site, with almost 60 different boards aligned with the brand's various editorial categories.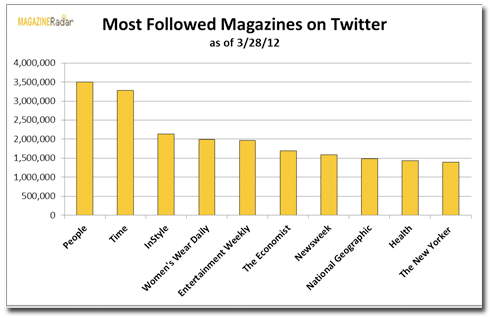 Source: Magazine Radar