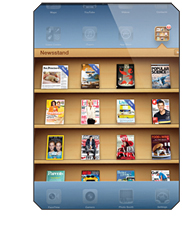 Time Inc. has decided to offer digital subscriptions to all 20 of its titles in Apple's Newsstand. Up to now, the publisher was one of the biggest hold-outs since the service launched.
In keeping with its All Access plan, subscribers to the print brands can get digital editions of their magazines at no extra cost, and the digital versions are priced similarly to their print counterparts.
According to Perry Solomon, vice president, emerging platforms business development at Time Inc., the company has kept up a partnership with Apple from the early days of the iPad—despite its initial reluctance to agree to the Newsstand terms. But the device's meteoric rise in popularity, the growing comfort of consumers using it to read magazines and, as many other publishers are discovering, a sizable community of first-time readers that are discovering brands through the tablet have helped push the publisher to finally jump on the bandwagon.
"We've seen in the last year or so that new consumers love to be introduced to our products through tablets," he says. "The tablet customer base represents a new business for us and we felt that as we learned from our existing subscribers, as well as our new customers, about how they engage with tablets we felt the time was right to take this to the next level."
Plus, the concept of Time Inc.'s All Access strategy—and the importance of being on every platform their customers want them to be on—never seemed fully complete without the Newsstand element.
And, says Solomon, Time Inc. customer research so far is showing that 80 to 90 percent of customers are expressing an intent to renew their digital subscriptions. And while it's still too early to quantify that in real numbers, Solomon says that kind of intent proves the viability of digital subs—another selling point for Newsstand participation.
Solomon declined to say if Time Inc. negotiated any new terms to put its brands on Newsstand, but described the company's partnership with Apple as an evolution. "It's been an evolution of our business strategy and Apple understanding what information we need," he says. "We're really pleased that we're on the Newsstand, we're now being heavily promoted on it and in the App Store and on other channels. Why now? It reflects that both sides want to make this a productive and profitable relationship."