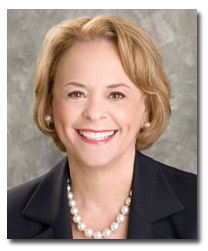 Time Inc. CEO Ann Moore began this morning's ABC Circulation Conference keynote at New York City's Waldorf-Astoria by scrapping her original speech. "Given the news of Time Inc.'s latest reorganization, and specifically since I even made the China Daily News, I've changed my remarks for this morning," she said.
Moore attempted to "walk attendees through Time Inc.'s changes and why," highlighting what she's learned from both the digital age and greatest economic depression of her career.
"By this October it was looking like 1931," she said. "[Time Inc.] has never had so many advertising clients in trouble at the same time. The declines are stunning." Moore added that she didn't care if it technically isn't a recession. "It is one for us."
"We really believed we could make the 2008 goals," Moore continued. "Our biggest and oldest brands had double-digit growth in 2007."
Recession, Not Digital, Spurred Reorg
Moore said that Time Inc.'s decision to reorganize had "nothing to do with digital and one hundred percent to do with the recession." The reasons for Time Inc.'s reorganization, Moore said, included centralization for faster decision making; collaboration and sharing across titles; simplification to eliminate all work that doesn't add value to Time Inc.'s editorial department or client services ("you can always add them back," she said of cut positions); alignment of goals to reduce costs and grow revenues; and innovation, citing the company's launch of Maghound and LIFE.com.
Moore did not say how many layoffs would be made as a result of the company's restructuring, or whether or not another wave of layoffs was likely. She did not take questions after her speech, and exited the ballroom immediately following her keynote.
Moore urged publishers to "throw out your neat little five year plans and adopt a two-year one," adding: "Time is better prepared now to offer more value and better solutions in the coming months, and looks forward to working with all of you."