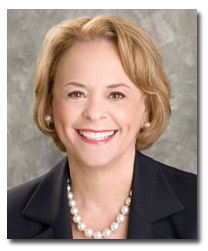 Time Inc. CEO Ann Moore is reportedly putting together a two-year strategy to steer the mega publishing company through the economic downturn.
Moore told the Times of London that "it will be tough to grow revenues" in 2009 but that she's aiming to increase net profit. Ad revenue during the second quarter was down nearly 10 percent, the report says. Digital, which accounts for roughly 15 percent of Time Inc.'s overall business, is not expected to hit the 53 percent growth target for 2008.
"I don't know if there will be layoffs," Moore told the paper.
No additional details about Moore's strategy were immediately available. Through a spokesperson, Moore declined to comment.
Ad pages at Time Inc. titles were mostly down during the first half. According to Publishers Information Bureau figures, the largest declines came from flagship newsweekly Time (ad pages fell 21.1 percent) and Entertainment Weekly (-16.8 percent).
Fortune's ad pages increased 1.3 percent.