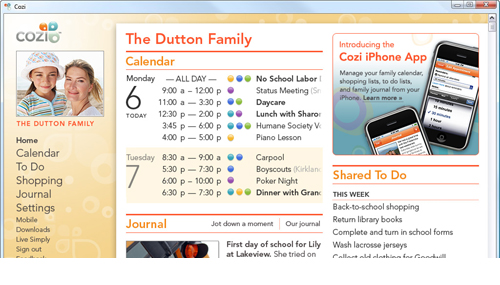 Add another acquisition to Time Inc.'s pre-spinoff checklist. The company announced today that it acquired Seattle-based Cozi Inc., maker of a family-oriented calendar, organizer and planning app.
Terms of the deal were not released, but Cozi will stay in Seattle and remain a stand-alone brand within the Time Inc. portfolio.
The deal comes just four days before Time Inc. becomes a public company.
Discussions began a year ago when Time inc. approached Cozi about business development possibilities, says Real Simple group publisher Charlie Kammerer. "The more we talked, the more obvious it became our union would be a productive one," he says.
Cozi was founded in 2005 by Robbie Cape, who will continue with the company. Time Inc. executive vice president Evelyn Webster will be overseeing Cozi.
Cozi's main product, the Family Organizer, has more than 10 million users. The app lets users set up a centralized calendar, to-do and shopping lists, reminders, meal planners, recipes and a journal.
"It's a strategic fit for us on many levels," says Time Inc. CEO Joe Ripp in an internal memo to staff. "First, its digital tools naturally align with the more than 53 million families we reach every month. We look at this as an attractive opportunity to combine content from our brands like Real Simple with these interactive tools and products, ultimately giving us a much deeper level of engagement with this important audience. We also believe that Cozi's organizational products can be applied more widely across our portfolio of brands—imagine the possibilities if we offer travel buffs, sports enthusiasts, or food lovers tangible digital and mobile tools to organize their activities combined with deep, relevant content."
As Ripp notes, the product's first brand alignment will be with Real Simple—Kammerer will manage advertising sales and marketing for the product—with wider brand involvement coming later.
The product also has a Gold level option at $30/year for consumers who want an ad-free experience and a richer feature set. It's currently available on iOS, Android, Kindle Fire and Windows 8.1.