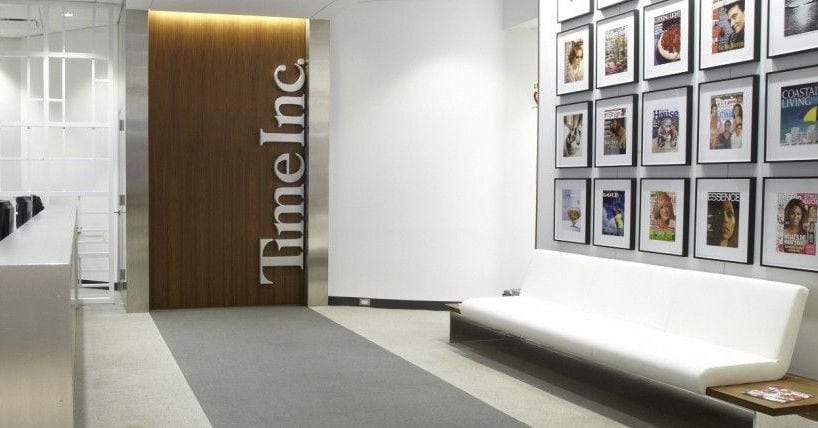 ---
Time Inc. president and CEO Rich Battista described plans for an aggressive cost-cutting initiative Tuesday morning after reporting revenue declines on both the print and digital sides of the business in Q2 2017.
Company revenue fell 10 percent year-over-year to $694 million over the three months ended June 30. Circulation returns dropped 12 percent to $207 million, primarily driven by a 22 percent drop in newsstand revenue, while print advertising — still the largest revenue driver for the company by a wide margin — dipped 17 percent to $249 million.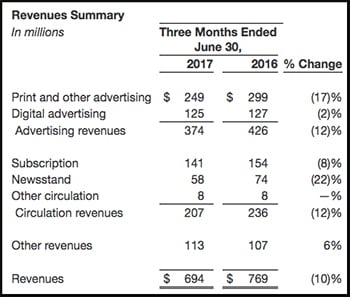 Perhaps most alarming to Battista and his team, however, is the two-percent dip in digital advertising revenue, to $125 million, contributing to an overall advertising revenue decline of 12 percent.
"We have already targeted more than $400 million of run-rate cost savings, with the majority of initiatives expected to be implemented over the course of the next 18 months," said Battista in a statement, before describing areas in which the company plans to invest for growth, chiefly: branded content, video, data, and brand extensions like the recently announced Sports Illustrated Swimsuit Enterprises.
As is customary, the company blamed changing consumer preferences, a spending shift among advertisers, exchange rates, changes to print magazine publishing schedules, as well as "public speculation about the ownership of the company and the trailing effect of the disruption from the reorganization of our advertising sales force," for the declines.
Shares of Time Inc. initially fell about 9.2 percent to $12.53 Tuesday morning before rebounding, somewhat, back over $13 by midday. At press time, the company's stock is down nearly 27 percent since the start of 2017.
"The third quarter represents an important turning point for the company as we are seeing strong momentum and sequential improvement of year-over-year trends for total advertising revenues," added Battista in the statement.
While Battista was short on specifics regarding the company's continuing rationalization of its cost structure, it's not difficult to imagine where Time Inc. will aim to trim expenses, and where it intends to invest for growth. Just yesterday, the company launched PetHero, a subscription-based service for pet owners which the company identified, through analytics, as particularly attractive to its existing customer base.
In June, Time Inc. laid off about 300 staffers, a move Battista directly attributed to the company's "rapid transformation in an industry undergoing dynamic change." A month later, the company confirmed that it was considering selling off certain assets, including Essence, Coastal Living, Sunset, and Golf magazines.