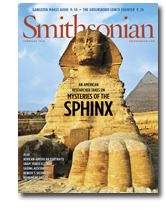 Smithsonian magazine is about to get a lot more sales representation. Time Inc. said Monday that it has partnered with Smithsonian Media to include the brand in its corporate sales efforts.
"The opportunity is strictly an advertising partnership," Leslie Picard, president of Time Inc. corporate sales and marketing told FOLIO:. "We felt it was a great opportunity to develop multiple programs with Smithsonian as part of what Time Inc. can bring to the table. The brands marry up well for a number of our advertisers."
The partnership is not meant to replace the Smithsonian sales operation, but the publisher will benefit from Time Inc.'s entre into the bigger corporate deals. Picard said the travel, pharmaceutical and technology categories are particularly well-suited for a Smithsonian-enhanced sale.
Smithsonian, which has a rate base of 2 million, dropped 26 percent in ad pages in 2009 versus 2008, per PIB.
Nevertheless, the brand's reach was an attractive match, said Rosie Walker, associate publisher of marketing and sales development at Smithsonian. "On the flip side, we fill an important demographic for them, we have a readersihp of nearly seven million, which is a nice size to hit that baby boomer demographic," she said.
Both Picard and Walker declined to offer any specifics on the revenue share. Smithsonian magazine will be the main benefactor of any combined deal, but Walker said that the other brands—Air & Space magazine and GoSmithsonian, a travel-oriented site—will also be included where applicable.