Time Forced to Defend Another Cover

Editor addresses TNR's 'Hillbama' criticism week after war vets.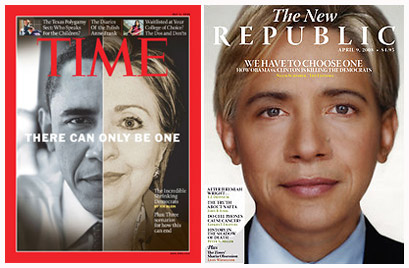 'There Can Only Be One'? Not this year.
Last week it was war veterans who were outraged over Time
magazine's choice of cover illustration. (So outraged, that Time managing
editor Rick Stengel felt it necessary to appear
on MSNBC to defend the cover.)
This week, it's the New Republic.
Time's cover this week features a split of Barack Obama and Hillary
Clinton.
TNR claims that Time ripped them off:
We don't want to say that this
week's cover of Time is a rip-off of our HillarAck cover that came out
last month, but-oh, whatever-they totally ripped us off! All the way on
down to the cover line, too: "There Can Only Be One" vs. "We
Have To Choose One." Perhaps we should retaliate by putting
a mirror on one of our future covers? On second thought … no, that's a
terrible idea.
Stengel's response:
If those wonderfully wonky folks at TNR (and I used to be
one of them) watched a little more of the NBA, they would realize that the
inspiration for this week's cover was the striking ad campaign the NBA is using
for the playoffs. In fact, we say so on the magazine's index page. And in what
is certainly a first, the NBA is doing a little cross-promotion with us on the
cover. [See here].
But, then, maybe TNR thinks the NBA owes them royalties? Good luck getting a
response from David Stern.
Forget the NBA. If anything, Time is guilty of cribbing a cover
from a magazine much closer to its DNA than TNR: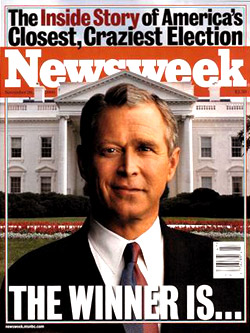 As we pointed out on the FOLIO: blog last week, all of this supposed "controversy" doesn't always translate into single copy sales. Just ask Time.
Meet the Author
---