Time.com Relaunches With Responsive Design

Original mobile site will no longer be maintained.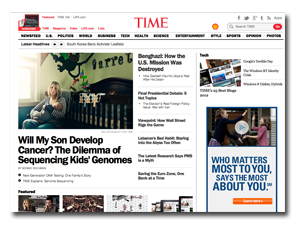 To provide a more consistent look and feel to its readers, Time magazine has re-launched its website using responsive design technology, which automatically reformats a website to fit all computer and device screens.
 "We're getting a ton of traffic to Time.com through mobile," says Catherine Sharick, managing editor of Time.com. "We wanted to have one codebase for the site that allows us to publish our content across all mobile devices, so that was the reasoning behind it."
Time has a growing mobile base, which currently makes up 15 percent of unique visitors to its site. Social media referral traffic is also a big source for the brand—the responsive design technology, which took a year to develop, will enhance the experience of users who come to Time.com through social media via mobile devices. Time has nearly 4 million Twitter followers and has more than 1.8 million followers on Google+.
With responsive design, Time will no longer maintain a separate mobile website.
"There's more available when it comes to navigation with the redesign," says Sharick. "We have more space and with the mobile site you're getting more content on each device. Before we only had only about 20 links on our mobile site, m.Time.com. Now that it's gone you get every story that you see on the homepage of the site on your iPhone, for example. It's a big change in terms of our offering."
The responsive design also provides access to subscriber content on all platforms, which will be viewable to logged-in users on the Web without requiring an app or download for each issue. Subscribers will also be able to access Time's archive, dating back to 1923, which will also be enhanced for the new site.
"We're really looking forward to being where the reader is and that's what we're seeing with responsive design," she adds. "That's how we're moving forward here at Time."
Stay updated on the latest FOLIO: news, follow us on Facebook & Twitter!
Meet the Author
---