Tiger's Historic U.S. Open Win Gives SI's Golf.com Record Traffic

Site gets 1.1 million unique visitors during Monday playoff.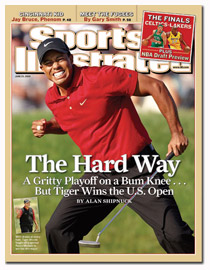 Tiger
Woods' historic run to win the U.S. Open golf championship—which culminated in
a 19-hole playoff in Torrey Pines, California on Monday—was great theater. And it delivered some
record-breaking online traffic, too.
Golf.com, part of Sports
Illustrated's Golf Group, attracted 1.1 million unique visitors on Monday, more
than double the traffic of any single day. The site drew 2.2 million unique
visitors during the five-day tournament. (Part of the appeal was something
called "The Tiger Tracker" which followed Woods' performance throughout the
tournament.)
Publisher Charlie Kammerer
says ad revenue was up 67 percent over last year for the site's U.S. Open packages,
which include integrated print and online buys.
Sports Illustrated,
meanwhile, pushed up the on-sale date of its print magazine by one day to Tuesday—less than 24 hours after the tournament's sudden-death playoff.
Meet the Author
---