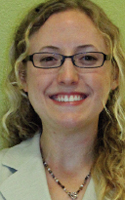 Audience Development Manager, F+W Media Interweave Division
Age: 27
Takeaway: A rising star at Interweave, Warble's efforts have been a tremendous part of the group's 95 percent growth of the email newsletter list size.
Interweave publishes 16 unique subscription magazines each year for art and craft enthusiasts. While her responsibilities have varied, Warble is currently managing the SEO and email conversion strategy for five of the 10 Interweave online crafting communities. Over the past three years, her efforts have been a tremendous part of the 95 percent growth of the email newsletter size for four of her communities, and the successful launch of a brand new one.
"I am our target market in so many cases," she says. "My biggest accomplishment has related to our online community strategy. We focus more on the organic side, interacting with our users and search engines from a user perspective. Since we've been able to adjust our strategy, our email subscriber base has grown 125 percent in the last few years, and our search traffic has improved by 70 percent in the last year for our communities, some growing much higher than that."
Warble, who started out as an intern with the company, worked her way up over the course of the last three-and-a-half years to audience development manager. She completes a thorough monthly analysis of email and Web metrics, and leads community team meetings where she presents her findings and makes recommendations. According to her colleagues, the information has been crucial to the team, and relied upon heavily as the company decides on future promotions and blogging topics.
"On a high-level community and topic basis, we identify key areas of interest to our consumers," she says. "We've been able to identify areas that search engines provide a lot of relevancy around. Identifying from an editorial side what is important, as well as from our side with what the search trends are telling us, we've been able to go after some big areas and have had some big payouts. As we start to actively target keywords and areas, we're to the point where one-third of those keywords are showing up on pages one and two. As we really dig in, we've seen an awesome response."