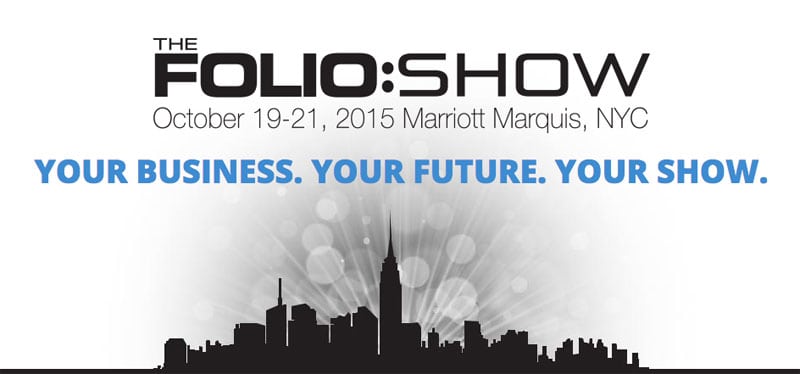 There are a ton of 'trends' swirling around the magazine media industry these days. A lot of it is around advertising—programmatic, ad blocking and fraud, visibility and so on. Workflow and organizational issues are also perpetual learning curves, and the search is never over for dependable revenue sources—if only! Yet marketers have been uniquely challenged as publishers continue the race for audience scale even as they seek to more tightly define that same audience to stay competitive in a data-driven and highly customized marketing world. It's why we built a dedicated marketing track at this year's Folio Show, happening October 19-21 in New York.
And here are three Editor's Picks from that track. Take a look and then visit the full track description to pick some of your own favorites. (Pro Tip: The early bird registration rate ends on August 20.)
1. Make Data Your Friend: Data-driven marketing is a double-sided priority—both publishers and brand marketers depend on it to drive their audience growth and activation. In our 'Marketing Activation: From Knowledge to Action' session, you can see dashboards in action and learn which metrics take you from the top of the funnel to conversion.
2. Treat Loyalty Like Royalty: Customer retention, especially the ones that exhibit a long-lasting affinity for your brands, is key to survival. In 'Keeping Your Customers, and Getting Them to Buy More,' our speakers will show you how to retain your best customers while also persuading them to buy into new and broader product packages.
3. The Trickle-Down Theory: Our closing keynote is shaping up to be a can't miss session. We're featuring a panel of CMOs at some of the top publishers in our industry. The panel won't just be a 'view from the top' dialog—which is valuable perspective nonetheless—but these CMO's, including Meredith's Nancy Weber and Bonnier's Elizabeth Burnham Murphy, will share how they're executing on new marketing strategies that make their audience profiling more competitive, expand brand opportunities across platforms and uncover a host of new revenue sources from existing customers and products.
Bonus Pick: You'll notice on the Folio: Show website that we also have tracks on Content and Revenue—meaning you'll have a chance to share and connect what you learn with your cross-department colleagues in your own company and at others. Often, you'll realize the full potential of what you learn when you link it with what's happening in editorial and sales.
See you at the Folio: Show!