Three Editors Accept Buyout Offers at Johnson

Ebony and Jet publisher trims older editorial staff.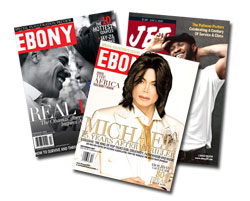 Three top editors at Johnson Publishing, which owns Ebony and Jet magazines, appear to have accepted buyout offers and will leave the company.
A spokesperson for Johnson did not return a request seeking comment.
According to a report on the Maynard Institute's blog, Ebony's Lynn Norment and Walter Leavy and Jet's Malcolm West—three of the company's four managing editors—accepted the buyouts, which were offered to staffers whose combined age and years of service equal 80 or more. Jet's Mira Low was the lone managing editor not to take the buyout offer, according to the report.
Ad pages were down 14.7 percent at Ebony and 22.3 percent at Jet last year, according to Publishers Information bureau figures.
Late in 2007, three of Johnson's top executives were fired in an effort to restructure its advertising sales department. One of those executives told FOLIO: then he was "shocked" by his sudden termination. The current buyouts, though, appear to be cordial. "I'm excited," Norment, who has been with the company since 1977, told the Maynard blog.
Meet the Author
---