Three Alternative Steps to Savings

Let personnel and T&E go untouched with these creative cost-savings ideas.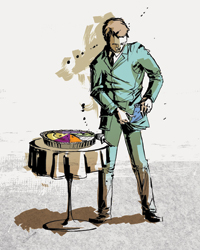 Most Publishers have at least one thing in common: the greatest costs come from printing, personnel and promotions. But as many struggle to stay afloat, they are in search of cost-savings methods that don't tap into their indispensable resources. Both Grand Rapids, Michigan-based Serendipity Publishing and Topeka, Kansas-based Ogden Publications have experienced no layoffs these past few months; in fact, they have continued to hire through the downturn. How have they managed to keep staff on board and operate business as usual? Creative savings and upfront investment, allowing both publishers to cut back on non-essentials and money drains in order to hold onto their most important resources.
1. Invest in E-Commerce
"The single biggest thing that we've invested in heavily is e-commerce on our Web site so we can sell more print subscriptions via the Web," says Bryan Welch, publisher and editorial director of Ogden Publications. Welch cites the company as taking a risk in 2008 by "eliminating about $650,000 from our direct mail budget and investing that money into expanding and improving e-commerce capabilities." In 2009, Welch says that Ogden plans to up this ante in the hopes of replacing direct mail-sold subscriptions with a more efficient source. Since this move to the Web, subscription circulation, as well as sponsor rates and new subscribers, have gone up in spite of Ogden spending less money on circulation and promotion.
E-commerce functions, including pop-ups on Ogden's own Web site, as well as SEM, have "probably saved [us] between $500,000 and $750,000 in 2008 just from the conversion of direct mail sources to online sources," says Welch. There is no question, he says, that they will experience more savings in 2009.
2. More Printers Can Cost Less Money
While some production departments consider meeting with printers on an annual basis to be a drain on time and money, Serendipity's president and publisher Kasie Smith swears by it. Every June, she makes a trip to meet with her printer. Why? "We've been using the same printer for about three years now, but it's still always good to get different bids," she says. While the company values its relationship with its long-time printer, after some negotiation, they recently decided to stray from their sole printer and farm out work to multiple partners. Smith says that by doing this, the company reduced its print bill by 20 percent. "While we love our relationship with them [single printer], in times like these, dollars and cents can really make the biggest impact," she says.
3. Automatic Renewal
It's no secret that publishers mail out multiple renewal notices—on average, it can take as many as 14 notices before a subscriber responds. For Welch, Ogden's "Earth-friendly automatic renewal savings plan" has not only given the company a new environmental initiative, but saved between $100,000 and $150,000 in 2008. While a normal acquisition price for new subscribers is $12.95, Ogden's online offer sets a price of $10 annually, in exchange for a credit card that the company can automatically renew. While the number of subscribers via automatic renewal is only about 15 percent of the total subscriber base, it is growing every day, says Welch. The savings in paper, postage and shipping costs far outweigh the discounted subscription price that the company offers through this program.
SIDEBAR
Going Green, Saving Green
Many companies are enthusiastic about going green—at least until they realize that many green initiatives will cost more than their normal business process (and take place on the back-end where no one else will give them props). However, some publishers, like Ogden Publications, have developed easy, low-cost green practices that also save money. Follow Ogden's model, and you can have your environmentally-friendly solution and bank a few bucks too.
What: Adding skylights to the building (in 2005); changing all company computers over to the most energy-efficient settings; adding insulation to the roof.
The payoff: Ogden estimates that its 2008 savings on its utility bills was about 10 percent through these three efforts combined. Given increased energy rates, the roof insulation installation might take a little longer than its initially expected two to three year pay off, the company says. However, savings are dependent upon the publisher's type of building structure, and could potentially add up to larger percentage in savings.
What: Reusing incoming packing materials for outgoing shipments and filing boxes according to size for easy access.
The payoff: The publisher estimates saving a total of about $3,000 in 2008. Ogden also shreds its old issues that would otherwise be recycled to use as packing materials, which helps save on overall shipping materials.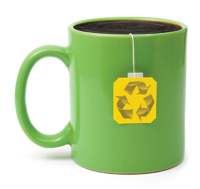 What: Replacing disposable cups and Styrofoam with glass mugs office-wide.
The payoff: With anticipated savings of about $500 for Ogden in 2008, reusable mugs can also be a plus to publishers that host many on-site client meetings.
What: Using a PDF comment system for group editing, and doublesiding printed docs.
The payoff: This application allows editors to collaboratively comment and edit a story projected up onto a large screen. Adobe's PDF comment system saves the company in paper and printing costs. The group editing process, as well as doublesided printing and copying, was expected to save Ogden $1,200 last year. 
Meet the Author
---