Those Curious Captions

The words beneath a visual are often the first a reader reads.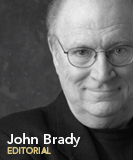 Lately I have noticed a few trendy magazines using photos without captions (called cutlines in some offices). The reader is supposed to figure out who the people in the photo are and what they are doing—presumably by reading the story. I'm not sure it works that way. When you don't have a caption explaining a visual, you are missing an enormous opportunity to hook the reader.
I am a strong advocate of photo captions for all occasions. A lot of my thinking goes back to David Ogilvy, the advertising guru who founded Ogilvy & Mather and wrote a book that I recommend highly to editors: Ogilvy on Advertising.
Ogilvy researched how readers scan a page, discovering that they are drawn initially to the visual, then to the caption that explains the visual, then the head, the deck and other elements on the page. "More people read the captions under illustrations than read the body copy, so never use an illustration without putting a caption under it," Ogilvy advised.
The implications for editorial packaging are considerable. Ogilvy was using print ads to sell cars and other goods. Editors are using layouts to sell stories. A key element in making the sale is the caption. The caption must go beyond a basic ID and create linkage between visual and story. The caption is not an identifier. It is a reader hook. Thus, for a story showing how the reader can eliminate frustration with suppliers, plus save time and money in the shipping department, the caption beneath a picture of a department manager might be something like—
JOE SHIPPER: "I stopped using FedEx years ago when the company went downhill in service. To me, the Postal Service today is better than ever."
That's not a caption—that's a story you've got to read.Captions should be close to what they describe. Ogilvy estimated that captions below (not above) the visual were read by 10 percent more people in his research groups.
Readers, accustomed to finding captions beneath or alongside visuals, quickly grow impatient if a publication's design does not work as a clear and effective delivery system. Clustering captions (when more than one visual appears) may be a solution for the art director; but for the reader it means going back and forth on the page.
Captions usually employ a typeface that stands apart from the text and are set flush left, rag right. Justified can create an old-fashioned feel.
There are various ways to use quotes in captions beneath pictures of speakers or sources in stories. Consistency is the key. Here are some variations in which we identify the speaker and then follow with a direct quote or paraphrase—
Eliot Spitzer stepped down as governor of New York on March 12 after being linked to a prostitution ring.
Rewrite using a CAP header and gerund for a more active attitude:
STEPPING DOWN: Eliot Spitzer resigns after being linked to prostitution ring.
Other variations using a CAP header:
ELIOT SPITZER: "Let's get prostitutes off the Internet and into hotel rooms."
ELIOT SPITZER: He advocates tougher legislation to get prostitution rings off the Internet.
Another approach, with speaker at end of quote—
"Let's get prostitutes off the Internet and into hotel rooms." — Eliot Spitzer
David Ogilvy liked to quote German architect Ludwig Mies Van der Rohe, who is known for his use of the aphorism "God is in the details." Indeed, in the editorial architecture of story packaging, one of the most important details of all is the caption. Use it to create curiosity and to build readership in your magazine.
John Brady is visiting professional at the Scripps School of
Journalism, Ohio University. He is a partner at Brady & Paul
Communications, a publishing consultancy, and conducts editorial
workshops for professionals. For information on his Interviewer's
Handbook: A Guerrilla Guide for Reporters and Writers, his Web site is johnbrady.info, or you can e-mail him at Bradybrady@aol.com.
Meet the Author
---