Thomas Global Register to Suspend Operation

Economy and 'decline in marketing investment' blamed for shutdown.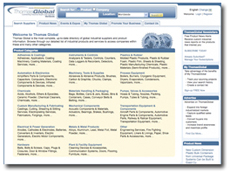 After shuttering its 76-year-old monthly trade title IEN in March, Thomas Publishing today suspended another one of its properties, Thomas Global Register (TGR), an online provider of international sourcing and marketing solutions for industrial buyers and sellers.
The cause of the shutdown—effective immediately—was a direct result of the "unprecedented global economic downturn" and the "decline in marketing investment worldwide," said the company release.
TGR's Web site directory will remain operational through January, 31
2010 and, the company said, will honor all current Thomas Global U.S. contract advertisers agreements on thomasglobal.com through this same date.
Thomas will continue to publish its individual country-oriented Web sites and directories, including ThomasNet.com, Thomas Register of Indian Manufacturers and its Web-based offering Thomex, Guia-NEI, the leading industrial directory of Brazil, as well as product sites in Germany, France, Italy and Turkey.   
"This decision to suspend our U.S. operations after ten years was not an easy one," said Jay Lindsey, president of Thomas International Publishing, in a release. "Thomasglobal.com has always strived to meet the highest industry standards, and we thank the many dedicated employees who helped us deliver on that goal."
According to a knowledgeable source, at least a dozen employees were eliminated as a result of this suspension.
When contacted by FOLIO:, a Thomas spokesperson declined to comment on
specific cuts.
Here's the memo sent to Thomas employees:
July 1, 2009
To: TPCo LLC Employees
From: Molofsky, Ivy
Subject: Important Message from Chairman Jose E. Andrade and President Carl T. Holst Knudsen
To All Employees:
As a valued member of the Thomas Publishing family, we wanted you to know that as of today the Thomas Global Register (TGR) will be suspending operations, as a direct result of the unprecedented global economic downturn and the decline in marketing investment worldwide.
However, the website www.thomasglobal.com will remain fully functional through January 31, 2010.
This change, affects only TGR. Thomas will continue to publish our successful and ongoing individual country-oriented websites and directories including:
ThomasNet, the acknowledged leader in industrial product information for the US and Canada The Thomas Register of Indian Manufacturers and its web-based offering, Thomex, the leading industrial sourcing service for India; GUIA-NEI, the leading industrial directory in Brazil offered in print, CD-Rom and over the internet; SeihinNavi, a leader in product news and information for the Japanese market.
In tandem with additional product websites offered in France, Germany, Italy and Turkey by Thomas Industrial Media in Europe, we will continue the Thomas tradition of bringing industrial buyers and sellers together.
This is a strategic business decision which allows us to focus our
resources to secure the company's most successful operations including our magazines in the United States and Europe and through our joint ventures in Brazil and Japan as well as our successful websites. Rest assured that the overall prospects for Thomas Publishing, LLC remain strong in our core markets.
Meet the Author
---