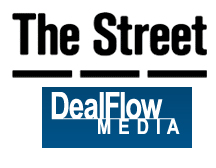 TheStreet Inc. is growing its portfolio of niche financial content—the company announced Monday that it has acquired The DealFlow Report, The Life Settlements Report and the PrivateRaise database from DealFlow Media Inc. These properties, and the employees providing their content, will be incorporated into The Deal, TheStreet's institutional platform.
UPDATE: "Their unique and proprietary content sets are a natural fit with The Deal Pipeline," Elisabeth DeMarse, chairman, president and CEO of TheStreet, tells FOLIO:. "Expanding The Deal's coverage to include the private placement markets enhances the value for our current institutional customers and gives us an opportunity to introduce The Deal Pipeline to new financial customers."
DeMarse would not release financial terms of the deal but says "it is immediately accretive, even under purchase price accounting rules."
The Deal Pipeline is The Deal's transaction information service for law
firms, investment banks, private equity firms, hedge funds and others.
Journalists with The Deal Pipeline write 150-plus articles and data
updates daily.
The DealFlow Report, The Life Settlements Report and the PrivateRaise database were founded in 2002 and cover small cap equity finance and niche areas of finance. These properties take on an enterprise model, and some of the niche markets covered attract more than 15,000 readers.
UPDATE: "We like buying high renewal rate subscription model businesses," says DeMarse. "That was the theory with The Deal as a platform when we acquired the business last year. It's working and expect us to do more roll-up type deals in the space."
Customers of The DealFlow Report, The Life Settlements Report and the PrivateRaise database will begin receiving coverage from The Deal Pipeline starting today. This deal gives TheStreet heightened access to the Western United States—included in the deal is a Northern California reporting bureau, which is seen "as a strategic opportunity to expand coverage for our customers," says DeMarse.
DealFlow Media Inc. will continue to operate The DealFlow and The Life Settlements conferences under a license from The Deal.
UPDATE: "Our focus is on building a durable and visible revenue strategy through subscription revenues to complement our media business," adds DeMarse. "The event business is a distraction and the owners of [DealFlow Media] know that business well. We are happy to partner with them going forward."
Stay updated on the latest FOLIO: news, follow us on Facebook & Twitter!