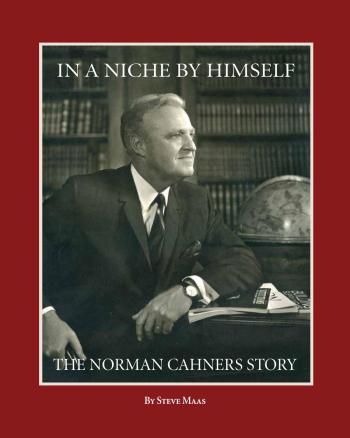 Last year, journalist Steve Maas published a biography of Norman Cahners, founder of one of the great companies in B2B media in the last 60 years. We loved "In a Niche By Himself: The Norman Cahners Story," (available for purchase here) and have been publishing excerpts for the last month.
Our first excerpt covered Cahners' pioneering of the "niche concept." The second looked at what it was like to work with Cahners. The third, last week, explored the company's pivot into tradeshows.
This one covers the gradual sale of the company by Cahners, and its ultimate demise. It's a window into a B2B giant, and an era in publishing that remains relevant today.—Tony Silber
---
In February 1966, International Publishing Corp., which billed itself as the world's largest publishing company, purchased a 40 percent stake in Cahners for $12.5 million (that's about $90 million today). While huge for Cahners, the amount was just a fraction of the $392 million the British firm posted in sales in 1965. The multimedia empire employed 30,000 at its 20 newspapers, including London's Daily Mirror (then with a world-leading circulation of 5.2 million); more than 200 business and consumer magazines; a major book publishing division; and trade show and television interests. The numbers for Cahners at the time were $20 million in ad sales; 17 publications; and 600 employees.
The deal gave IPC, which had holdings stretching from the Caribbean to the Far East, a foothold in the United States—"the first sizable move into publishing here by a foreign company," The New York Times reported. The British concern was putting not just its money, but its faith in Cahners.
"It's still our company and we're going to run it," Cahners told Advertising Age. "We're adding International Publishing's muscle and capability, and one of the biggest factors is the franchise, in that everything International Publishing does here will be through us, except for newspapers and mass printed media." For Cahners, the $12.5 million vote of confidence fulfilled a personal dream: a "terribly human" desire to "see how well you can do in the big leagues," he said.
In practical terms, besides providing the means to acquire more U.S. trade magazines, the deal catapulted the company onto the world stage. "We wanted to telescope time; we wanted to get with an established operation and plug into its setup," Cahners told Advertising Age. "We can now offer U.S. advertisers a worldwide marketing service, and we can direct them to any of International Publishing's magazines." The deal also benefited the editorial side. Through an exchange agreement, Cahners could draw on the talents of IPC's more than 1,200 journalists worldwide.
International Publishing did its homework before investing in Cahners. Veere Sherren, who headed up the IPC subsidiary that oversaw the deal, had been investigating the American market for three years, according to a clipping in the Cahners notebooks (The article is by a W.G. Norris, but the publication is not identified). "I made a dozen visits to the States in that time," said Sherren. Four out of his five research teams picked Cahners. "I got the okay from the IPC main board and settled the deal in principle with Cahners in 24 hours."
Frank Rogers, another IPC executive, talked about the acquisition at Cahners's 70th birthday celebration. Rogers quoted from a speech he gave in 1966 on the occasion of the deal:
Why did IPC seek a link with Cahners and not with some other company possibly better known to the public? I'll tell you why in one sentence: We at IPC came to the conclusion that Cahners was the fastest growing, most thrusting, most efficient business publisher in the United States. We also discovered during extensive conversations with Norman that he combines the greatest charm, the greatest humanity and integrity with drive, judgment and efficiency—a highly desirable but rare combination of human characteristics.
At the birthday dinner, Rogers said that in his 47-year career, "I have long since regarded Norman as the person I have most enjoyed getting to know on a personal as well as a business basis. I have come to learn that there are very few people indeed in one's working life on whom one can depend as a true friend as well as a business colleague. Norman is one of those people."
Rogers and Sherren were among the three International Publishing executives named to the Cahners board of directors as part of the 1966 transaction. No changes were made to the Cahners management team itself. By that time, Cahners held the titles of chairman of the board and chief executive officer. The month before Gold- weitz had been named to the new post of president. Advertising Age quoted an industry observer as describing Goldweitz "as one of the most underestimated guys in the business publication field."
Merger for the Books

"Cahners Plans Giant Merger," read the headline in The New York Times on Jan. 1, 1968. The Boston publisher announced that it was buying Conover-Mast, a New York concern nearly two- thirds the size (in revenues) of Cahners and twice its age. The deal was heralded as the biggest ever in the history of the business press and estimated to boost the company's annual revenue to $47.6 million ($320 million today). That meant Cahners would now be No. 2 in its field—still far behind McGraw-Hill and its $130 million in revenues.
The deal took many in the industry by surprise, said Cahners veteran Mason Fackert. "Who was this brash upstart publisher from Boston buying the white-shoe business trade magazine firm in New York?" Fackert recalled some people in Manhattan asking.
That upstart now had a portfolio of 37 monthlies, bi-monthlies and directories. The Conover-Mast acquisition was the company's 10th, going back to the purchase of Metalworking in 1956.
Cahners Publishing had planned to go public in 1973, filing a prospectus with the Securities & Exchange Commission. But then the stock market nosedived, and Wall Street lost its appeal. Meanwhile, the British were waiting in the wings. International Publishing Company, which had bought 40 percent of Cahners the decade before, was now part of Reed International, a huge conglomerate with interests ranging from publishing to paper mills to paint. By acquiring Norman Cahners's remaining personal stake of 40 percent, Reed would own four-fifths of the company.
"They [Reed] had been trying to buy him out for several years, and he had always said no, and then they upped the price," said David Pokross, who talked at length with his then father- in-law about the pros and cons of selling. Pokross recalled telling him: "You don't have to sell. You don't have to do anything. You earned it. If you want to, you could run this thing into the ground." But it finally reached the point when Cahners said to Pokross: "I don't know where this is going to end, and I'll never get a better price." He felt the offer "validated his stewardship and his achievements," Pokross said.
Still, Cahners was uneasy. "He didn't know if they were going to keep him as a decision maker in the company, and that made him nervous," said Walter. "He visualized himself as continuing to be the chief honcho even after the sale."
Once Norman decided to sell, negotiations were "only mildly contentious … a lot of quibbling about little things," said Henry Horbaczewski, who at the time worked for the law firm representing the British. "My particular memory is how incredibly smart the people on the other side of the table were. I would much rather have been working for them," Horbaczewski added. (He got his wish a decade later, heading up the legal department.)
Besides Cahners and Goldweitz, the people on the other side of the table included two men who in the future would be chairman of the Cahners division of Reed: Ron Segel, then vice president of finance, and Robert Krakoff, then head of the Exposition Group. Horbaczewski called them "the all-star team." Cahners himself impressed the attorney as "just an incredibly gracious and classy guy under very tough circumstances: He was selling his baby."
And, as Walter had warned, surrendering his power. Although Cahners had been on close terms with the British, ownership had its privileges. Reed entrusted Goldweitz and Segel with running the company. London edged Cahners out of the inner circle, although he retained the title of chairman until 1985. "There were some differences in opinion on how the company should be run between Norman and the British owners," Walter said diplomatically.
As much as the British may have admired Cahners as a visionary leader, perhaps they felt more comfortable working with hands-on managers like Goldweitz. "Norman was creative. [The British] realized he was sort of the genius, but when it came down to hard business, Saul was the one they understood," said Marion Osman, Cahners's long-time secretary.
Still a Presence

Although Cahners's authority was diminished, his presence continued to be felt: indirectly, through the corporate atmosphere he had fostered and the chain of command he and Goldweitz had assembled; and directly, when he was asked to weigh in on important decisions or to address corporate functions.
More than three decades later, Skip Farber still remembered how stirred he was by a speech Cahners gave at a management meeting. "His message was pretty clear: 'There's opportunity for all of you. We now have this much bigger business. We have a bunch of old guys sitting at the top; who's going to rise to the top?'" Farber could feel the earnestness and poignancy of Cahners's appeal. It may not have been his business anymore, but it still bore his name and, more important, its future was a large part of his legacy. The speech, Farber said, was Cahners's way of saying, "Everybody here brought us to where we are today; who's going to carry us through tomorrow?"
Behind the scenes, Cahners quietly exercised his influence. In 1984, the company had an opportunity to buy Interior Design. It would mark the company's first major foray into the paid circulation market—"the foreign land that we fought with controlled circulation all that time," as Terry McDermott put it. Interior Design also would be the company's first newsstand magazine, as it had a sizeable consumer audience in addition to its large readership among architects and interior designers.
There was a hitch, though. The seller, Whitney Communications Company, wanted to unload Interior Design as part of a package that would have also included Hockey News and Art in America. Those other magazines would have been outliers in the Cahners portfolio, whereas Interior Design complemented the company's building and construction titles. How, then, to persuade Whitney to break up the bundle?
Tim O'Brien, then assistant to the finance VP, Ron Segel, said a brainstorming session was held in Cahners's office. It was one of O'Brien's few visits to the wood-paneled inner sanctum, which he said was so dim that his eyes took a while to adjust to the lighting. Cahners didn't lead the meeting. In fact, at first, he just sat back and listened. Eventually, he offered up a suggestion: Make a low bid for the entire package and then bid much more for just Interior Design. The gambit, which O'Brien called "brilliant," worked.
O'Brien said that by that time he didn't think Cahners missed being the big boss. "I think he wanted to hand it off. He acknowledged it was Saul's time."
Norman Cahners' Final Battle

In retirement, Cahners faced one more battle. One day as he stepped off his boat, the Lady Helene, he felt dizzy and weak. The doctors thought it was dehydration. Further tests showed that Cahners had a form of cancer of the blood called multiple myeloma. "His first response was those doctors were no good," Osman said. He thought that with all his money, he could somehow find the right care. "He was unable to accept the fact that perhaps it was something that couldn't be done."
Initially, the doctors did have some success. The cancer went into remission. But when it came back, it turned his last year into a painful ordeal. His bones became so weak that even a slight jolt to his wheelchair felt excruciating. The once strapping Olympic candidate collapsed in on himself, his weight plummeting to less than 100 pounds. "I had to lift him from a bed to a gurney," said Bob. "He was just as light as a feather." Walter said he frequently visited his brother when he was undergoing chemotherapy. "He wasn't himself at all. His whole attitude was a giving up kind of a feeling."
Nancy was pregnant during her father's final decline. He was put on a respirator; his immune system became so compromised from the chemo that he caught pneumonia. That was the cause of his death on March 14, 1986.
Cahners had been due to retire officially on April 1. "I often thought he died right on time," his daughter Nancy said. "I thought he would not want to live beyond his connection to Cahners."
After cancer cut short Segel's life at age 56 in 1991, the company rapidly lost the Cahners spirit—as it would in time the Cahners name. The atmosphere was "less collegial, less open, less intellectual," Horbaczewski said. "In the early nineties, they discovered the principle that good enough was good enough as long as it made money."
A Company Passes Into History

Company veterans say the decline accelerated after Reed merged with a Dutch publisher to become Reed Elsevier in 1992. The new leaders were not as "talented, not as driven and not as dynamic," said Ira Siegel, who eventually became head of Reed Elsevier's LexisNexis division. "They knew the bottom line and knew how to massage numbers on a balance sheet."
As an economic downturn hit ad sales at the trade magazines, the parent company pushed costcutting and showed little appetite for expensive acquisitions. After the merger, Globe columnist Alex Beam wrote, "Cahners's newspaper clip file reads like a diary of Napoleon's retreat from Moscow."
Recounting the twists and turns of the Reed Elsevier story would challenge a 19th century Russian novelist. Just trying to keep track of the Cahners name makes one dizzy. In 1997, Reed Elsevier dropped the name after acquiring the Chilton Business Group, a magazine publisher that also had a research arm and a trade show division.
The new entity, Reed Elsevier Business Information, was headquartered in Newton, but parent company executives hinted geographic reshuffling was to come. At the time of the deal, Cahners employed 2,800 people, but only 400 of them were based in Massachusetts.
The name change lasted all of nine months. In March 1998, the Cahners name was reinstated as Reed Elsevier was making plans to merge with the Dutch publisher Wolters Kluwer. "We went back to a name that has always had very strong recognition in the marketplace," Bruce Barnet, president and chief executive of what was now called Cahners Business Information, told the Globe. As it turned out, concerns raised by European regulators scuttled the merger, but the Cahners name survived—barely. Four years later, in February 2002, Reed Elsevier again gave Cahners the hook. The corporation decided to place all of its worldwide business information properties under one name, Reed Business Information.
In the following years, Reed Elsevier sold off many of the magazines that were once part of the Cahners empire, but resurrected the Cahners name for one of its division and an award given in his name. But by 2013, the Cahners moniker had vanished.