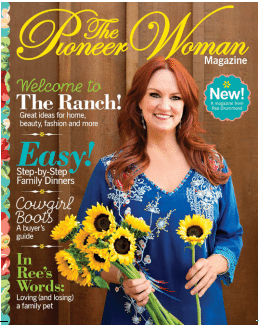 Last week we spoke with Christine Guilfoyle, SVP and Group Publisher of Meredith's Women's Group, about the value print offers celebrities as a marketing channel. The impetus of that conversation was the success of HGTV stars Chip and Joanna Gaines' print magazine, The Magnolia Journal, which has increased its rate base after each of its first three issues. Well, here we are again talking about another celebrity-inspired magazine. This time the publisher is Hearst Magazines, and the celebrity is Ree Drummond, or better known to her fans as "The Pioneer Woman."
Hearst launched Drummond's magazine, unsurprisingly titled The Pioneer Woman, at the start of June. The pilot issue was sent out to approximately 4,000 Wal-Mart locations and Drummond's retail shop. The initial print run was set at 150,000 units, but another 100,000 copies were printed because the company said it had nearly sold out. That inspired us to take a closer look at the magazine to see what all the fuss was about. We're glad we did, because it's a fascinating case study in how content can be married with effective branding and marketing to provide readers with a quality experience.
The magazine isn't trying to achieve the visual aesthetic of a Harper's Bazaar or Esquire, instead it stays well within its lane and focuses on what will sell this issue—Ree Drummond. If you're familiar with her brand this cover should grab your attention. It's got rustic appeal with its typography and barn board backdrop, and mixes that with bright colors and inspirational coverlines (three exclamation points, but who's counting?).
When you open the book, the TOC is followed by a two-page L'Oréal Paris spread—one of the launch sponsors who is very present throughout the issue. The TOC mimics a tiled image approach that we can thank Pinterest for. A perfect navigation approach for its audience.
The content inside the book is a mixed bag, and one that we can imagine will inspire readers to pick up the magazine more than once. It features lifestyle content, beauty tips, more recipes than we can count, and even fashion. (As it turns out, gingham should be considered a neutral. Who knew?) But when you really look closely at the content you'll see the real genius in The Pioneer Woman—it's a marketer's playground. Nearly everything is connected to consumerism, but none of it feels unnatural. In fact, it seems like more of a service than a hinderance. The feature that really stands out is really nothing more than a content-marketing play to
promote Drummond's retail store, The Mercantile. However, the feature makes you feel like you are getting a behind-the scenes look at the store, instead of just being prompted to visit and buy her products. It also provides tangible value by giving readers a recipe from the store's bakeshop. Smart.
The book is 121 pages and loaded with ads, including content integrations with brands like L'Oréal and Dr. Pepper.
Overall, this is an excellent magazine for Drummond's brand, and a great value to her fans at only $3.99. Expect to see this title get a more aggressive frequency, and maybe extended distribution in 2018 after its second test issue. This is an ideal approach at giving readers and marketers what they want.