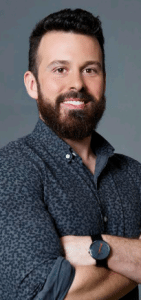 When Matt Bean was named editor-in-chief of Men's Health in October 2016, he had a new vision for the brand, including a redesign of the magazine that reaches nearly 14 million readers. To execute that vision, he called on Mike Schnaidt to take over the reigns as creative director. Schnaidt is an MH alum, but also has a diverse résumé that includes stints at Entertainment Weekly, Popular Science, and Esquire. We wanted to get a better sense of how that background will play a role in MH's new look, so we caught up with Schnaidt to find out.
Folio: So what brought you back to Men's Health?
Mike Schnaidt: Matt's excitement and vision. Before I accepted the offer, I knew he wanted to do a redesign and reinvigorate the brand. It's energy I didn't see when I was here before. Working my way up the ranks and seeing the magazine through different iterations, I had thoughts on what the magazine should be. Matt and I are similar in that way and are right in the middle of the audience in that we are into the same stuff our audience is. I joke around that it's the one job I'm qualified to do.
Folio: What principles and philosophies are anchored in your approach, regardless of what publication you're designing for?
Schnaidt: My approach is to simplify. When you present a simple solution it shows you have really thought through the problem and it shows the reader that you understand. That takes a lot of work. When I'm asking editors questions I'm asking for more and more. I'm trying to get to a visual nugget and have a light bulb moment. I try to think like an editor. A designer is not just a designer and the same is true for an editor.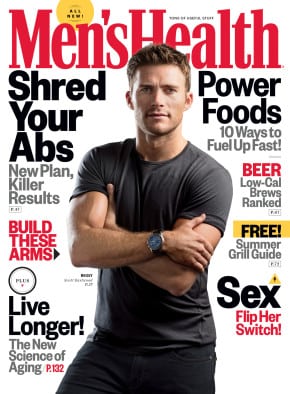 Folio: Like most magazines, Men's Health has a formulaic approach in its design, and it inarguably works. What changes have you already made to that formula?
Schnaidt: It's funny because on the surface people think of Men's Health as guys who only eat chicken breasts. But we did a reader survey and found the readers are more complex. They want actionable advice. That informed my redesign. We want to make the magazine look as easy as possible but also seem actionable. One of the changes we've made is the photography. We didn't want to just do studio shots, we wanted more contextual shots in natural environments so readers can relate. Going forward, we really have to think about different kinds of readers and plan around our writing and visuals. It's about striking the right balance.
Folio: What do you love about designing in a print medium?
Schnaidt: When I'm working in print I'm working within limitations. That makes you more creative. You think about page count, which is finite and dimension, which is also finite. It forces you to come up with new ideas page by page. And it pushes us to come up with new visualizations.
Folio: Can those limitations sometimes cause headaches that don't exist in the digital space?
Schnaidt: The limitations prevent us from doing things for sure. What's great about digital is it allows us to do things we can't in print, like video. It enables us to expand upon our content.
Folio: Anything exciting in the pipeline you can share?
Schnaidt: One of our upcoming issues is on innovation and we're shaking up the structure of the feature well. We're really ready to make some changes to the classic magazine structure. The next issue will have some surprises.
---
This story originally appeared on Folio:'s sister site, minonline.