In February, ESPN The Magazine took home a National Magazine Award for General Excellence (news and sports) in a competitive field that included The New Yorker, New York, GQ, and Bloomberg Businessweek. While content is a key driver for the general-excellence category, design is also a critical component for winning. And the force behind that design is the creative director, Chin Wang.
Wang cut her teeth at local newspapers in the 90s, and eventually began working in magazines after she joined the Boston Globe in 2001. She came to ESPN in 2012, and worked under design legend and min Hall of Famer, John Korpics. In 2014, she was elevated to the role of creative director of the magazine and ESPN.com, and has since been praised for her cutting edge design—particularly her annual treatment of the magazine's franchise staple "The Body Issue."
We wanted to learn more about Wang's design philosophy and understand what makes her tick, so we caught up with her this week to ask a few questions.
---
Folio: You had big shoes to fill, replacing John Korpics. How were you able to pick up where he left off and maintain the look and feel of ESPN The Magazine, and implement your own design style and sensibility?
Chin Wang: John hired me back in 2012. As soon as I got here he really pushed me in a way nobody else ever had, and got me to think big and be as ambitious as possible. I tend to gravitate towards bold, graphic design that's also simple and clean. Our fans are not the same people who read The New York Times or The New Yorker. But they also aren't quiet or shy, so I don't want the design of the magazine to be either. I want it to be lively and emotional.
Folio: Are there times when you need to be more restrained and almost get out of the way of the content?
Wang: I like designers who think like an editor. We aren't here to just make things look pretty. There are a lot of magazines where you can tell that designers took over. They feel over designed without any connection to the story. We try to stay away from that, and not design for design's sake. I would argue that design is content in and of itself. It's not a supporting player. I'm very lucky to collaborate with editors who see us as part of the process. They don't call a story meeting without a visual person there. Every story is a collaboration between edit and design.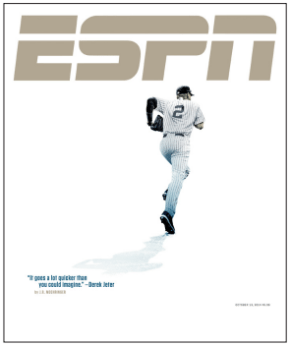 Folio: What's been your favorite cover that you've worked on since joining the brand?
Wang: I love the work we do every year with "The Body Issue." But on a very personal level, I love the Derek Jeter goodbye cover from 2014. It has lots of white space and is very quiet. It's tough to pick just one though, especially because in the last six months or so, we've been experimenting about what a cover is and how it can be a conversation in sports. So instead of thinking about the cover as a nod to what the story is about, we want it to be a piece of art like a poster.
Folio: What do you love about designing within the print medium?
Wang: I love the permanence of print. I subscribe to dozens of magazines and I savor them in a way I can't on my phone. I really do believe it helps you appreciate the physicality of the product.
Folio: What about digital? What are the advantages, as well as the platform-specific challenges there?
Wang: I don't know if print forces you to innovate like digital. I also oversee ESPN.com and working in the digital space has been pretty humbling. I come home at the end of the day with more questions than answers. You're constantly asking why you are making certain choices. In print there are finite things. A lot of the decisions you make are fairly automatic.