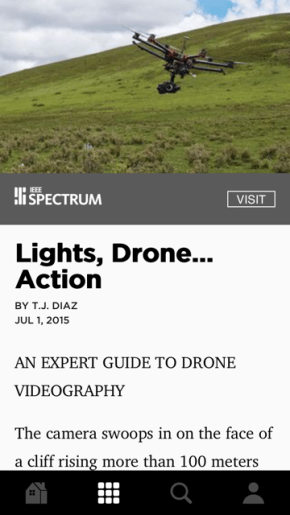 The Magazine Channel, the tech company founded by Publishers Press in 2012, has released a new reading app, the company announced today.
Now available for free download, iPhone app Inkworthy boasts more magazine articles than any other reader, according to The Magazine Channel, with some 40 percent of the content from the more than 450 participating publishers making its digital debut on the app.
Targeted ads interwoven among and within the stories—both seachable and sortable by topic—will generate shared revenue for both the app and the publishers with whom it partners, but The Magazine Channel says an added benefit for publishers is the ability to identify individual print articles that perform particularly well with mobile, social media-inclined audiences.
Inkworthy joins existing competitors Zinio, Issuu, Texture, Magzter, Flipboard, Pixelmags, and several others, as well as newsstands on platforms like Google Play, Amazon Kindle, and Barnes & Noble's Nook.
Click the images below for some screenshots of the app.