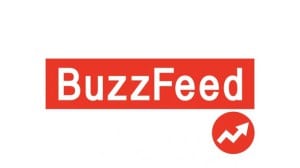 The news that BuzzFeed was slashing its 2016 revenue forecast by half—half!—ricocheted around media-on-media circles last week.
BuzzFeed cut its internal forecast from $500 million to $250 million, according to a report that was disputed by BuzzFeed. This came, according to Vanity Fair, after missing its 2015 number by more than 30 percent.
While BuzzFeed is ridiculed for vapid viral content (it probably invented sharable cat videos and listicles), it has proven an ability to generate massive traffic. It is said to generate upwards of 200 million monthly visitors, with 75 percent of that traffic coming from social media and 70 percent of it on mobile. And it's been praised too for its serious side: Legitimate journalism, notably political coverage.
Like many digital-only media companies, it attracts a mountain of VC money, plus cultural buzz.
So when BuzzFeed dramatically dials back its topline forecast, that's big news. But it's not just BuzzFeed. Digital-media pureplays have hit a wall. It's a remarkable story.
In the last few weeks:
It's hard to pinpoint why this is happening. The answer varies company to company. Some grew too fast. Some got sloppy about managing costs. Many are riding fads. Many are based on achieving massive scale, but building that scale costs too much for it to ever become profitable through digital advertising. The cost of building the traffic is worth more that the value of it to the advertiser. Some companies, like Mashable and Vice, are seeking new business models, such as pivoting to television programming.
The market's current level of froth, and foolishness disguised as conventional wisdom, is laid out well by Skift founder Rafat Ali, here.
In the case of BuzzFeed, it turns out that its fundamental model—creating custom programs for advertisers that mimic BuzzFeed's organic content—doesn't scale. Programs take too long to sell and build, and viral moments pass in the blink of an eye. I don't know, but that strikes me as obvious. Interesting that all the smart people at that company didn't figure that fact out from the start.
Ali blames the correction on a quest for scale. I blame the business model. For starters, many digital pureplays have a confused sense of identity (they think they're technology companies), that lets them fall prey to dumb thinking by tech people about media. The push for traffic becomes more important than the reason that traffic is attracted in the first place. The goal becomes quantity.
In an industry with a huge fraud problem, and where digital banner advertising is often blocked or ignored, that's a dangerously one-dimensional approach. VC millions play their role too, hiding lots of flaws behind the hype. (I go back to a point I made in Folio: a few weeks ago about how magazine-media brands with a print component offer much more complete audience engagement, with multiple monetization strategies. If one is soft, others are likely to be performing well.)
Despite all the new technologies, distribution methods, marketing tools and media-consumption patterns, the media business model still comes down to a simple idea: Aggregate an audience, engage with it deeply, and then monetize that audience through advertising and other direct sales to the audience. Digital pureplays that have aggregated a loyal audience haven't cracked the monetization piece of the puzzle. When traffic plummets, or when media consumption shifts to say, video, the whole model is at risk. Layoffs happen. Careers crash. The laws of economic gravity, it turns out, also apply to hyped digital-media companies too.
But there's an even larger risk to digital-media companies (and all media companies) afield now. It comes from social media. The accepted idea is that the relationship between content-creators and social media is a two-way street. Social networks need media-company content to drive traffic. Media companies need social networks to distribute their content. It's a win-win. I've had really smart executives tell me this—that they're totally fine participating aggressively with Facebook Instant Articles, or Google's Accelerated Mobile Pages, because Facebook in particular is where the audience is. Social is a "platform" for engaging with audience.
That's true. But what it doesn't address or even acknowledge is that a new form of media—social media—is establishing an inexorable primacy. Media companies engaging audiences through social are training those audiences to use social. Consumers young and old have already gravitated to social media as their daily front page for national and local news, engagement with friends and families, community activities, avocations and just about everything else. It probably is necessary for media companies to accept this reality.
But one thing is sure. In doing that, you willingly move your game to someone else's playing field. You play by someone else's rules. You're subject to their whims. As noted above, a shift in policy or objective by a social network means you could lose a ton of traffic.
Media companies get incremental benefits for giving away something real—your audience becomes their audience, even as you create the content that brings it to Facebook. Facebook, in effect, is monetizing your work and making itself smarter, stronger and stickier with the audience—your audience—because of your work. Remember too: They're the ones getting really rich. Facebook and Google generate more revenue that the magazine and newspaper industries combined.