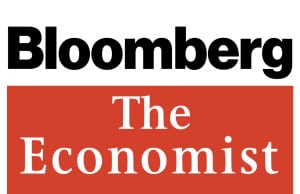 As media brands continue to embrace content licensing and synidcation as an alternative revenue source, two of the biggest names in financial news are teaming up to form a global video distribution partnership.
Beginning in Q3, Bloomberg Media Distribution will offer clients access to The Economist's Daily Watch series of original short films covering everything from news and finance to politics, tech, and science.
It's all part of an effort to offer clients the best consumer experience possible across any device, Josh Rucci, general manger of Bloomberg Media Distribution, tells Folio:.
"The Daily Watch series covers a range of topics, each comprising a sub-series under The Economist's Daily Watch brand," Rucci says. "We think these strengthen our offering of smart, insightful content, and will look to build upon this based on customer demand."
For Bloomberg, the Economist partnership comes on the heels of similar distribution deals signed last October with The Hollywood Reporter, Billboard, Mexican-based outlet El Financierio, and STAT.
"The Economist is one of the great global brands in high-quality business journalism," adds Rucci. "Bloomberg strives to present the best user experience to our customers… Our relationship with The Economist is a natural fit with our portfolio and global customer base."
As for The Economist, access to Bloomberg clients likely offers the London-based outlet a valuable opportunity for brand positioning as it aims to raise its global profile, particularly in North America.