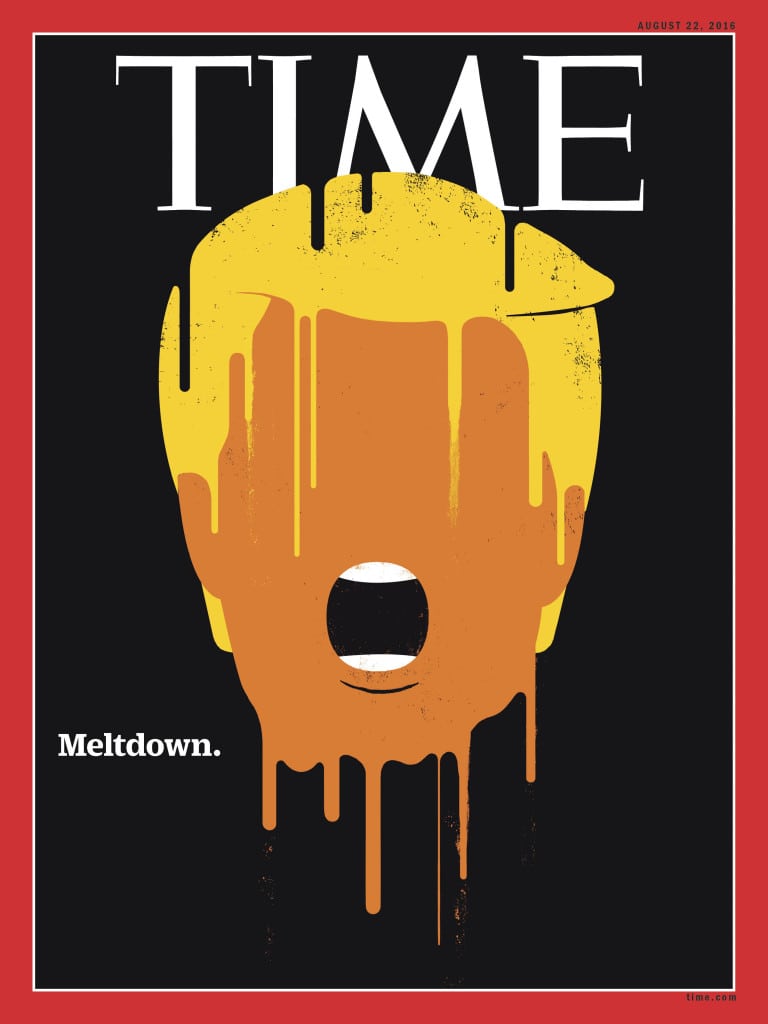 Sometimes less really is more, and that's definitely true when it comes to cover design. Time magazine has certainly embraced that mantra over the years, and this week's cover is a great example.
There isn't much left to say about Donald Trump and his candidacy that hasn't already been said. So creative director, D.W. Pine, decided to keep it simple yet provocative to tease out the magazine's feature piece on Trump's volatile post-convention run. The result is a buzz-worthy cover that visually captures the sentiment of many political pundits. We caught up with Pine to hear how this cover came to be and learn more about his design philosophy.
min: Take us through the genesis of this concept. 
D.W. Pine: Trump made a series of misfires in the two weeks since the Republican convention, which led us to start thinking about a cover story on his slumping campaign, as evidenced by his falling poll numbers. One word that describes the moment is "meltdown," which of course gave me a strong visual concept. On Friday, five days before our close, I reached out to Cuban-American artist Edel Rodriguez. Edel and I worked together at Time in the early 2000s, and I knew his strong graphic and simplistic style would fit perfectly with the concept. He came back with five or six sketches—different colors and profiles. But everyone felt the straight-on portrait was the most impactful. 
min: How did you land on the simple, one-word coverline? 
Pine: The cover of Time is obviously a team effort. It comes down to four or five of us in my office coming up with coverlines and concepts. In the end, it's the decision of editor-in-chief Nancy Gibbs—she has the final word. Ultimately, the one-word approach added to the impact of the image. 
min: What were some of the more notable challenges putting this cover together?
Pine: The main challenge of the illustration was to make sure it was crystal clear that it was Donald Trump. Edel managed to perfectly capture his likeness with just a few simple lines. This was also the fifth time we were putting Trump on the cover in the past year (including "Deal With it" in August; "How Trump Won" in January; "Gut Check" in late July) so we needed to make sure this captured a distinct moment, which it did.
min: Do you still design covers with the newsstand in mind? And what else do you consider when you design a cover?
Pine: The design mission of a Time cover is to make a clear and graphic impact as simple as possible, so in that sense, we have the newsstand buyer in mind. But the majority of our growing audience experiences the Time cover in a digital form—whether it's shared on social, debated on TV or sparks a conversation online. It's always amazing to me how the cover—with its iconic red border—is able to penetrate the cluttered media landscape, grab people's attention and make them think. It's the power of Time.
min: What's your favorite thing about this cover?
Pine: Probably the mouth—it's simple and still "working" despite the problems literally melting around it.
min: Would you tweak anything if you had the chance now? 
Pine: The wonderful thing about Time is you just keep looking forward. There's not really time to look back, because another cover is coming right after.