The race to accumulate and grow page views and visitors is never ending for publishers. For most, page views and visitors continue to be a core KPI upon which they are judged, and one touted to private equity companies in search of the next acquisition. And yet, growth in these metrics is not necessarily a strong indication of true success. Investors are already learning this, and past triumphs are quickly being rewritten as modern day failures (e.g., the recent layoffs at The Guardian, The Telegraph, and Mashable).
If publishers only focus on scale, they are going to sacrifice two things: first, the quality of the audience they can deliver will decrease, and second, in the long run, they may lose brand relevance. For instance, publishers focusing on these metrics would be well served to make big investments in Facebook Instant Articles and Facebook as a platform, but as my friend Tony Siber points out, this comes at a price.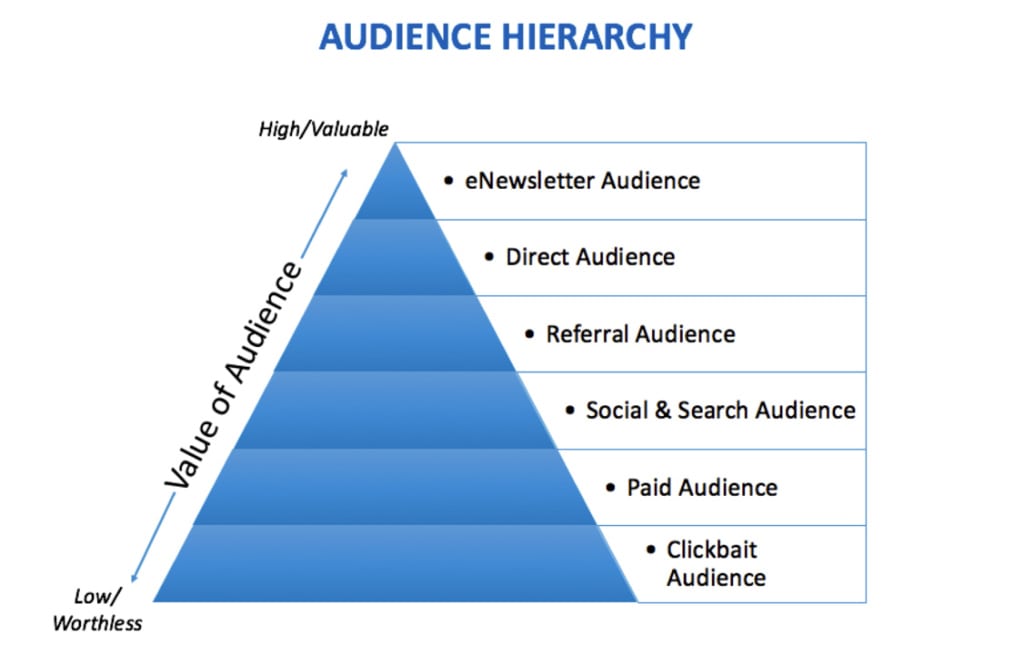 The simple truth is, not all audiences are created equal. Some are truly valuable and others are relatively worthless. To understand the difference, we need to examine the source of audience and build strategies that focus on the top of the pyramid. Here's a quick primer:
Clickbait Audience – These readers are not your target audience and only come to your site because you enticed them to do so. By way of example, if you are a B2B publisher focused on the insurance market, writing a story about the top 10 most exotic animals that were insured in 2016 will drive traffic, but this B2C audience isn't attractive from a subscription or advertising perspective. Media executives and private investors should take the time to look at their top 10 stories each month to determine if they are clickbait.

Paid Audience – These are readers that come to your site because your marketing targeted them. You did this either through search engine marketing (SEM), native advertising (e.g. Taboola), or social media ad buys. This traffic is a step above clickbait traffic (unless it is bot driven), but still limited in value. To understand the value of this audience, one would need to look at the conversion rate (i.e., do they come back again); if they don't convert they are relatively worthless. For private equity firms, this is an easy (and often inexpensive) way for any company to goose up their traffic prior to a sale. That said, there are also many legitimate reasons for acquiring traffic this way.

Search Audience – These are readers that find your site through organic links on Google (based on the keywords and newsworthiness of your stories). Often, they only read a single story, and many are highly transient and don't come back again. And yet, search is an important channel for discovery and for building new relationships. Readers from search are proactive with a specific intent to learn. Additionally, one should remember that regular readers use search as a means to get to your site more easily as well, and a certain percentage of search traffic is your regular reader.

Social Audience – These are readers that find your articles through social sites. With the proliferation of social sharing today (62% of Americans are getting their news from social), this audience may represent the next generation of readers. If they are finding your content through recommendations from others, they are likely a prime audience to build new long term relationships with. The challenge is converting them from being a casual reader on a social media site to a regular reader on your website.

Referral Audience – These are readers who are referred to your site from another one (e.g., a blog that links back to an article you wrote). This traffic is highly self-selective and typically represents your target audience.

Direct Audience – Direct traffic refers to people who have either bookmarked a page (like your homepage) or who come to your site without a referring source (e.g. via an email link). This audience tends to be very valuable and is a part of your core audience.

eNewsletter Audience – This audience is at the top of the pyramid. They represent individuals who have opted to receive your newsletter into their personal inboxes. They have a high affinity to the brand and have a higher engagement than any other audience source, which often makes them core targets for marketers from an advertising perspective.
By focusing on the top of the pyramid, you'll build relationships with your core community that can be effectively monetized from a subscription, advertising, event, and intelligence perspective. The long-term success of media properties has to be focused on building communities and building repeat visitors (which is really the metric that a private equity buyer or management should be most interested in). Companies like Facebook understand this all too well. It's why they are so attuned to having their users come back every day and why they want media companies to distribute content on their platform.
To succeed, audience metrics should focus on quality and frequency, not on mass alone.