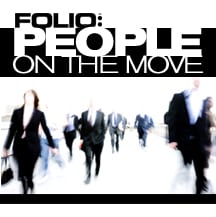 The Atlantic made two promotions of the company's top editorial positions. Matt Thompson, the deputy editor of TheAtlantic.com, moves into the role of executive editor overseeing all cross-platform projects, and staff writer Adrienne LaFrance is the new editor of TheAtlantic.com.
LaFrance will manage the day-to-day editorial operations of TheAtlantic.com and oversee its reporting team across ten news desks. Thompson, who since early 2015 has been deputy editor of TheAtlantic.com, will take on an expanded, cross-platform portfolio.
"To my delight, The Atlantic is growing at a rapid pace, and we need editorial leaders capable of grappling with the challenges and opportunities of this moment," Jeffrey Goldberg, EIC of The Atlantic, says in a release. "Matt and Adrienne are two such leaders. They bring great knowledge and skill, great judgment, and a great love of The Atlantic, to their new roles."
LaFrance succeeds the site's previous editor J.J. Gould. She joined The Atlantic in early 2014 as a staff writer and editor, she has covered technology, politics, and the media. Before joining The Atlantic, LaFrance was a breaking news reporter. She has worked for Honolulu Civil Beat, Nieman Lab, the NPR member station in Boston WBUR, and Digital First Media.
TheAtlantic.com has grown audience +36% in the first half of 2017 compared to the same period last year with a spike to a record 42.3 million monthly unique visitors in May 2017. That month, TheAtlantic.com also set new records for daily unique visitors, page views and concurrent visits.
---
Here are the rest of this week's people on the move…
Scot Dalquist is the new VP of the Newspaper Relations Group at AMG/Parade, focusing on the Western U.S. newspaper partners. Most recently, he served as the manager of printing and publishing sales for NORPAC, a producer of newsprint and commercial papers.
Christopher Shay, formerly of World Policy Journal, will be joining The Nation as senior editor starting July 31, based in the brand's New York City offices.
Former New York Times and Sports Illustrated staffer Pete Thamel has joined Yahoo Sports. As a senior writer for the Oath brand, he'll cover college football, the NFL and college basketball.
The New Yorker has hired BuzzFeed's director of newsletters Dan Oshinsky to lead its own newsletter efforts. He will join the publication on August 7.
American Trade Magazines (ATM) has promoted Donald Feinstein from national sales director to associate publisher. He'll remain in charge of ad sales for the magazine group but ill take on additional duties. Feinstein has been with ATM's parent company Crain Communications for over 17 years.
Wendy Benjaminson has a new role at AP as national news editor for beats. In this role she'll directly oversee the work of three beat reporters who cover religion, law enforcement and social issues. Benjaminson had been serving since January as the AP's acting Washington bureau chief, a role that was permanently filled last month by Julie Pace.
Ezekiel Kewku and Benjamin Hart have joined New York Media's Daily Intelligencer as politics editor and politics writer respectively. Kweku will help run the site's expanding politics coverage, working with New York's team of daily news and opinion writers, weekly columnists, and reporters. Hart will cover national politics and provide a lead voice for weekend coverage.
Kweku was most recently politics writer at MTV News. And Hart spent five years as a front page editor at the Huffington Post, and has written for The Awl, GQ, Slate, Salon, Vogue and Splitsider.
Additionally, Sara Holdren is joining New York and its entertainment site Vulture as theater critic. She is an accomplished director and theater maker, who'll write reviews as well as more essayistic pieces.