The Atlantic Gives Readers a Lifetime of News

Life Timeline is proof there are several ways to repackage content.

---
The Atlantic isn't interested in preserving its 160 years worth of content for just posterity's sake, nor is it interested in keeping it locked up behind a paywall for only subscribers to see if they feel compelled. In fact, the brand has developed a new way to get extra mileage out of its generations of content while also monetizing it and offering readers a new experience in content consumption.
Life Timeline rolled out last week, and it's a case study in how publishers can repackage content, develop a custom product for advertisers and engage readers in a totally new way.
The concept is actually pretty simple. Visitors land on the Life Timeline homepage and just enter their dates of birth. From there, readers are served between 10-13 milestones that happened during their lifetime, which The Atlantic was there to cover (unless a reader was born before 1857).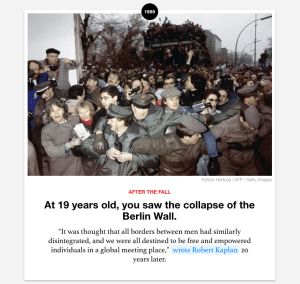 Even better, the project is sponsored by National Geographic in order to promote its "Origins: The Journey of Humankind." The buy includes two pieces of native content for every timeline launched by a user, plus more traditional ad units wrapped around The Atlantic's adjacent archival content.
A spokesperson from Atlantic Media tells Folio:'s sister site min that the idea grew out of a "sprint," a Silicon Valley innovation process that the company—which regularly boasts about its startup mentality—recently adopted to stay nimble and innovative.
"More than a year ago, TheAtlantic.com Deputy Editor Matt Thompson had the idea to create a product that found a story from The Atlantic's archives pegged to the midpoint of a reader's life, which is often a tricky date to summon on the fly, much less remember what was happening in the world at that time," the spokesperson says. "From there, a team crossing divisions—editorial, special projects, product & development, sales, social and design—spent a week together, collaborating and developing a solid theory of what the tool would be and how it would work."
The Atlantic team fed the computer model more than 1,500 milestones, which were fact-checked and copy edited and paired with photographs and deep linking. "The product team also constructed a complex logic engine to make sure every timeline felt robust, to balance serious events with lighthearted ones, and to make it easy for users to browse from their timelines to related coverage and back," the spokesperson says. "And the sales and marketing team brought on board an advertiser for launch."
Despite all that work, the project is still ongoing, and the brand says it plans to keep adding more content to the timeline. "The Atlantic is uniquely positioned with such a vast archive to continue this project and we're also imagining new ways to bring these individualized stories to a collective audience."
We did have one final question: How does it narrow down a lifetime of significant news to about a dozen milestones for any given individual? Essentially it was an editorial process that was led by Thompson and his team. Research, crowdsourced ideas, internal conversations (and perhaps occasional debates) and technology like Amazon's Mechanical Turk, all played a part in the process but the spokesperson says it was ultimately finalized by The Atlantic's editorial team.
---
This story originally appeared on minonline.com.
Meet the Author
---