In what could be a major boon to publishers looking to augment print revenues with digital edition subscriptions, magazine reader Texture has been approved for in-app purchases by the Apple's App Store.
The update was released on Tuesday to little fanfare — its description reads, simply, "You can now purchase a Texture plan right within the app. Download to get started." — but the implications could be significant for Texture, which launched as a joint venture from Condé Nast, Hearst, Meredith, News Corp., and Time Inc. in 2012. Previously, users had to access Texture's website and sign up for a subscription before downloading the app, a clear impediment to subscriber acquisition.
The idea behind Texture is essentially to create a digital newsstand — or a "Netflix for magazines," as it's often termed — on which consumers pay a monthly fee of $9.99 to access digital versions of over 150 of the largest-circulation print magazines in North America. A $14.99 per month premium subscription opens up additional access to weekly titles such as Billboard, Entertainment Weekly, and Newsweek.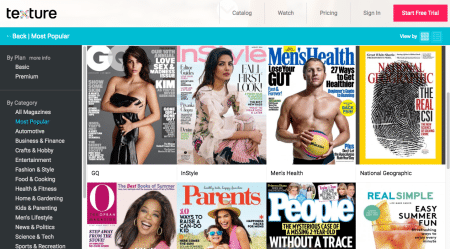 While enthusiasm around digital editions may have softened slightly from six years ago, when they were hailed as a potential savior to the industry that could generate as much as $3 billion in revenue by 2014, the concept has slowly been returning to fashionability. A study released by BPA Worldwide in December suggested that digital editions account for as much as a quarter of overall circulation.
In May, Texture CEO John Loughlin told attendees at the IMAG Conference in San Francisco that Texture paid out over $15 million in revenue to publishers in 2015. That number is surely due to rise with this week's development.
Of course, inherent in moving the purchasing process from an owned website to Apple's platform is the caveat that Texture loses out on exclusive access to customer data. In this case, however, the potential for drastically increased revenue likely outweighs the bad, especially given the fact that competitors like Zinio and Magzter already offer in-app purchases.
Originally known as Next Issue, Texture rebranded in 2014 after raising $50 million in funding from private equity firm KKR. Last year, under Loughlin's leadership, the service shifted from strictly focusing on digital replicas of print magazines to allowing publishers to lift individual articles, a move Loughlin told Folio: was about providing greater exposure to indivual brands' non-endemic audiences. In March, Texture made its first large-scale leap into original, exclusive content, with "The Mastermind," a serial produced in partnership with The Atavist.
Representatives for Texture were not immediately available for comment.