Texterity Acquired By Godengo

New entity combines a proprietary CMS platform with digital edition development.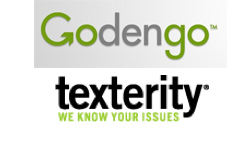 Digital magazine developer Texterity has been acquired by Godengo, FOLIO: has learned.
Berkeley, CA-based Godengo has its roots in regional magazine website design and development but has expanded into offering a content management system for publishers.
Terms of the deal were not disclosed. Godengo CEO Peter Stilson and Texterity president Carl Scholz declined to offer any further detail, but Godengo just secured a Series C round led by New Science Ventures that paid for the acquisition and will provide capital for further product and services growth.
The combined company, which will undergo a rebranding in the next few months, says it now provides services to 1,200 titles owned by 500 publishers in the U.S., Canada and Australia. The deal also gives each company instant access into new publishing markets. Texterity has been strong in the b-to-b vertical while Godengo, which Stilson says has grown its customer base 500 percent in  the last three years, has made inroads in the consumer market.
Scholz says Texterity has seen growth but has had limited ability to continue to fund it. Discussions with Godengo started last December. "We have been in growth mode for a while, but somewhat constrained in how fast we could grow," he says. "We wanted to have the resources to grow faster and broader and when we met Godengo it was a perfect compliment. There is almost no overlap, but we have similar plans and strategies."
Texterity's technology will be integrated with Godengo's Rivista CMS product with the idea of offering customers a unified digital publishing platform. While that solution is months away from completion, Scholz says short-term solutions will include the development of modules that can be added on to each company's platform to accomplish similar goals.
Stilson will become CEO of the combined company while Scholz will be president. Martin Hensel, who founded Texterity, will advise the new company as part of a new consulting practice he's launching. EBITDA Media advised Godengo on the deal.
Hensel founded Texterity in 1991 as a book production platform. The company expanded into e-book publishing and then evolved into one of the primary providers of digital magazine production and delivery services. Texterity also runs Coverleaf.com, a Web-based newsstand that features about 90 titles including Fast Company, Entrepreneur, Women's Health and Better Homes and Gardens.
Meet the Author
---