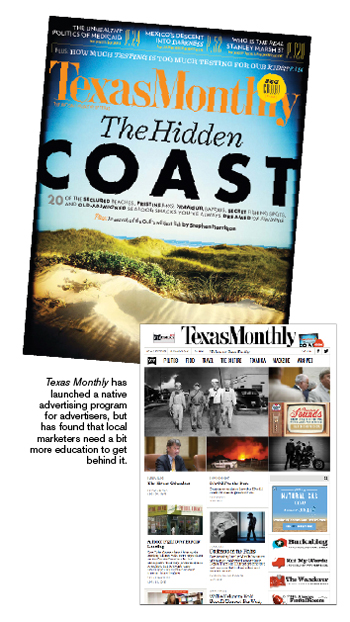 Texas Monthly, on the occasion of its 40th anniversary last September, redesigned the print magazine and followed that up with a relaunch of its website in February. Since then, the site has occupied a much higher profile as a contributor of both business and audience to the brand.
The site now produces much more original content, but it still leverages magazine content, particularly with its archive. "The redesign of the website was meant to blend together original web content with magazine content and make heavy use of our archives," says editor-in-chief Jake Silverstein. "A case can be made that archives are uniquely valuable for a regional magazine. The geographic boundaries of our content make us a deep vertical."
The edit team contributes to the magazine and the website, which is divided into several topic verticals, but Silverstein notes that quality content blurs the lines between print and digital. "We don't believe people make a distinction between where content comes from," says Silverstein, "they just want to read something good."
Nevertheless, politics is a highly trafficked vertical, and the team makes sure to keep that channel well stocked. The Burka Blog, the site's most popular property, now has three more voices covering legislature, the congressional delegation and the exploits of Governor Rick Perry.
Long-Form Feeds Short-Form
The site is updated daily with reported aggregation, daily news and posts from reporters filing stories as they work on longer features for the magazine. A writer is currently on assignment covering the tragic explosion in West, Texas for a long-form magazine piece, for example. At the same time, she is filing smaller related items for the website.
Texas Monthly has also entered into a partnership with the Texas Tribune, a web-based publication co-founded by former Texas Monthly president and editor-in-chief Evan Smith, and The New York Times to bolster the Times' regional edition by contributing its cultural reporting from the website.
All of the extra content is paying off. Traffic to the site since its redesign is up 70 percent over the same period last year. About 50 percent of the traffic is arriving at the site on individual story pages, where readers average 3.5 minutes, says Sam Martin, Texas Monthly's director of digital strategy.
Meanwhile, the brand has launched a native advertising strategy by offering a sponsored content option for advertisers. "The idea of sponsored content fits in with our broader business goals and that was to introduce more variety to the site by offering more than just display," says Martin.
The idea is to get advertising partners to tell their brand stories—simple marketing collateral, however, is not allowed. The concept, says Martin, has taken some effort to relate to marketers, who've needed some education to get behind it, but digital revenues are decidedly on the rise. Texas Monthly has beat its original digital revenue goals by 50 percent so far this year and digital revenues overall are up 30 percent versus last year.
The brand attracts a mix of regional and national advertising—in fiscal 2013 national advertising represents about 40 percent of print revenue, for example—so the website options need to be on par with what some of the bigger consumer brands are offering. "We have to have the type of inventory that our advertisers are going to be interested in, but one of the challenges is bringing regional clients up to speed in the digital world," says Martin.