Tennessee Publisher to Launch National Green Magazine

Positively Green targets environmentally-minded women.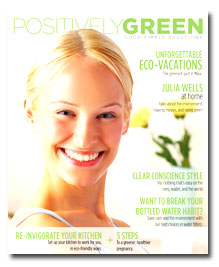 The publisher of Nashville Interiors magazine has announced that she is launching a national title targeted to women who are looking for "no-nonsense" solutions to living greener.
The quarterly—called Positively
Green—is set to hit bookstore and retail store shelves in early August. The magazine will cover topics ranging from health to beauty to fashion to gossip to incorporating green living into everyday life.
According to publisher Kelly Magill, she wanted "to produce a very visually stunning, fresh-feeling" magazine that "would resonate with women juggling work and children and all the other things we deal with in life."
With a $4.99 cover price, the launch issue has 112 pages and an initial print run of more than 50,000.
Meet the Author
---