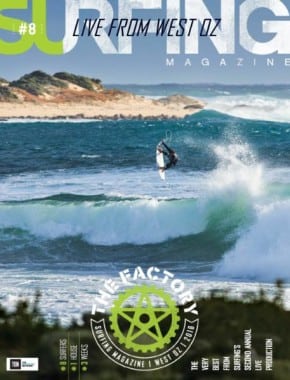 This story was updated on January 26, 2017 at 3:50 pm.
After 53 years, Surfing magazine is paddling off into the sunset.
TEN: The Enthusiast Network confirmed this week that Surfing — which chronicled surf culture since its first monthly edition went to press in December 1964 — will cease to exist as a distinct brand, its print edition shuttered and its digital assets folded into fellow TEN title (and longtime competitor) Surfer.
In an all-too-common refrain reverberating throughout the magazine business, TEN cited consolidation and a pivot toward digital media as the answer to changing demands from consumers and advertisers, preferring to stake its claim on the older and more widely read Surfer, which Norb Garrett, EVP/GM of TEN's sports and entertainment portfolio, called "the lifelong bible of the sport."
"Surfer was the logical brand to put everything into as we go forward; it's always served a larger audience," Garrett tells Folio:. "But we're bringing over a lot of the great editorial concepts from Surfing, including some of the key members of the staff, to really round out Surfer moving forward."
While Surfer and Surfing had a shared sales staff, the two titles maintained separate editors. Just how many editors will be brought over from Surfing remains unclear, but Garrett describes the staff going forward as "a strong blend of members of both teams."
"The advertising market in traditional publishing is contracting, especially in areas where your'e dealing with younger demographics," TEN CEO Scott Dickey tells Folio:. "The idea that brands were going to support multiple titles within a vertical doesn't make sense anymore. This is a natural contraction of the surf publishing industry. It doesn't mean those dollars are going away, they're just going into other distribution channels and other media. That's where we're investing."
The announcement comes as TEN — which also publishes titles like Motor Trend, Hot Rod, and SLAM, among others — aggressively reinvents itself as a digital-first enthusiast media company, with a particular focus on video content. Its nascent but recently rebranded video production arm, StudioTEN, has grown into a 50-employee operation with a 30,000-square-foot Los Angeles studio. The company claims an overall audience of 162 million —of which its print magazines account for just 3 percent — and 27 million monthly video views on its branded YouTube channels alone.
"We're putting more resources and manpower on creating content in areas where consumers clearly are consuming more — in video, in social, in digital," adds Garrett. "It is, no doubt, a manifestation of that strategy, and an ongoing one. Experiential events is another channel where we see a lot of opportunity. We've got a few really great events that were with Surfing that we can expand and grow."
Founded by Dick Graham, then-editor of the short-lived Petersen's Surfing, and photographer Leroy Grannis in 1964, the upstart Surfing soon established itself as a formidable competitor to the more well-established Surfer, a rivalry that persisted even after both titles gained a common owner in Primedia, in 2001. Both magazines were sold, along with the rest of Primedia's action sports portfolio, to Source Interlink in 2007, and both survived that company's 2014 bankruptcy and subsequent rebirth as TEN.
The news of Surfing's closure prompted an outpouring of social media consternation from professional and amateur surfers alike, as well as this somewhat bizarre-but-passionate Beachgrit.com eulogy for "the brave little magazine." Surfline.com's interview with "surf historian" (and former Surfer editor) Matt Warshaw provides some further insight into Surfing's lasting impact on the sport and culture it covered for decades.