Last year, Teen Vogue launched its first two-day Teen Vogue Summit in December. Its success led to the brand renewing and expanding the program into two events for 2018—the first in June and the second slated for the end of November.
The Summit, which is aimed at the magazine's readership of teens and young women who represent upcoming change-makers, was created as a way for the publication to "engage our readers offline and give them the chance to solidify the ideas and relationships they are building in digital spaces," according to executive editor Samhita Mukhopadhyay.
However, it wasn't only the publication's success from the first two Summits—a 900 percent year-over-year increase in the brand's experiential revenue from Q4 2017 to Q3 of 2018 versus the same period in 2016-2017—that has inspired its continuation and growth, but also the positive responses from its partners that have allowed for a brand extension of this size to become a bi-yearly event.
Alternating between Los Angeles and New York City—the December Summits taking place in the former at 72andSunny, and this past June's Summit hosted in the latter at The New School— these events are similar to many other experiential brand extensions that fashion and lifestyle publishers have been experimenting with recently.
Yet, it's the new demographic of attendees that the Teen Vogue Summit offers to sponsors that's made it a stand-out event.
"They're really looking to tap into this audience," Julie Graybill, sales director at Condé Nast Culture Collection, tells Folio:. "It's all about these Gen Z and young millennials, and they're trusting a brand like Teen Vogue to know what these young people are going to want to talk about."
Having the Summit take place biannually on both coasts allows not only for the brand to reach more of its readership, but also for advertisers to reach this demo in different parts of the country.  Thus, it allows the brand more opportunities to experiment with the concept of Summit as well as appeal to different partners' specific needs, according to Graybill.
Each Summit has approximately 600 tickets available for attendees, which is dependent on the venue space, with prices ranging from $199 for the Friday day pass to $499 for a weekend pass. Both of the previous Summits, as well as pre-Summit meet-up events, have reached capacity.
And while the biannual frequency offers the opportunity for both editorial and partnership experimentation, as well as provides a doorway into different markets at varying times of the year, Graybill says that it really depends on the goals and objectives of the individual sponsors to see who is interested in returning summit-over-summit and year-over-year.
The upcoming Summit that is running from Nov. 30 to Dec. 1 has two returning sponsors, Pottery Barn's PBteen and PlayStation, the first of which has participated in all three Summits, and the second of which was an original partner in the inaugural event in Dec. 2017.
Kendra Stewart, Director of PR & Brand Marketing, PBteen, says that this Summit, "draws together a diverse, dynamic, and forward-thinking audience of creators, leaders, innovators and change-makers," which is partially what influenced the company to stay on as a sponsor through each event, though Graybill points out that bringing back sponsors isn't a formulaic process.
"It's much more about what's going to make sense and what's going to make this event even better rather than just blind renewals," she says.
Creating engaging activations based on KPIs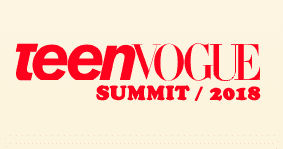 This year for example, PBteen is tailoring their audience activations to fit with the overall theme of the Summit—this December's focusing on career building and inspiring change, compared to June's theme of getting young people to the polls—so the company is providing "inspirational hubs" filled with its furniture and a customizable, editor-curated "change-maker kit" grab bag.
All of the Summit's seven current sponsors worked with both Teen Vogue's editorial team and Graybill's team to create bespoke activations. "We're really looking for partners who can be additive because all of our sponsorships involve some level of integration into the programming," she says.
PlayStation, the other returning sponsor, for example, is providing a completely different experience for attendees.
The gaming company's approach to the Summit's theme is through inspiring creativity and kindness in Teen Vogue's audience by previewing a new PlayStation 4 positivity-themed video game, "Concrete Genie," as well as tying into the professional-development aspect by hosting a Mentor Session and a "Power of Kindness" mixer with game designers and artists to inspire attendees to pursue careers in the gaming industry.
"Our number one priority for this event really is about authenticity," Graybill says, both for their attendees and for their partners, about creating unique integrations for each of the sponsors. "Each of our activations is in full collaboration and fully bespoke with the partners, so for us, it's not just about coming back year-over-year, it's really about that individual advertiser's goals or objectives, how we feel like that could tie into the appropriate thematic and conversations that we would be happening in the event."
The new sponsors for this Summit, which include trend-facing and fan-favorite brands for the magazine's audience like bareMinerals, Puma, LOLA, and Victoria's Secret PINK, as well as Google's initiative Made With Code, all have similar integrative activations, which are aimed at seamlessly flowing into the program and were created and suggested by the editorial team.
Google's Made With Code, for example, also focuses on career development, however its activation is an on-site coding workshop that features a unique coding challenge for attendees to try.
"The traditional process being us understanding that partner's goals and objectives and their KPIs and then working as a conduit with edit to make sure that we're delivering something that's doable, functional, and that we're really confident that the young people will interact with," says Graybill.
---
---
Using programming to engage audience and partners
In terms of programming the events with speakers and themes, the edit team is primarily focused on selecting topics that their audience is already talking about.
"We would be thrilled to have the type of consumer response that we had last December," says Graybill. "And to be able to demonstrate to our advertisers that we're the authority to really help them make connections with these young people and to really pull off an event that is more than just a photo-op."
This Summit's slot of speakers includes tennis champion Serena Williams, founder of Backstage Capital Arlan Hamilton, and a returning speaker and host, actor and activist Storm Reid. And all of their speech topics, as well as the Summit theme, were selected as a reflection of what the Teen Vogue editors see from their audience's interest.
"Each of our Summits–like the brand's editorial–is driven by what Teen Vogue's audience really cares about what we feel we can provide for them as they aspire and are motivated," Mukhopadhyay tells Folio:.
However, Graybill says that "all of our partners that we currently have signed on were all signed on before we made the talent announcements." She continued that the celebrity status of the speakers and being associated with their names was not a determining factor for partners.
"The determining factor is really the partnership with the brand, with Teen Vogue, and how we engage with these young consumers."
She also says that it is more so the ability to tailor the companies' engagement with the attendees that appeals to potential partners than it is about the content and programming that the publication delivers to its audience—so long as the audience remains engaged, which Graybill says they have.
And while not every sponsor has signed back on to participate in the Summit again within the year, she continues that based off of post-event data, all of the former partners have been happy with the level of audience engagement that they saw.
"We provide all the sponsors post-event a very thorough recap of brand list metrics, social metrics, and media value depending on the social KPIs of the campaign, but everyone has seen and been very happy with brand list and strong social buzz coming out of the events," says Graybill.
The plans for the 2019 and future Summits have not yet been solidified, but Graybill says that Teen Vogue does "see it currently as a very substantial and growing revenue stream, and it is 100 percent part of the objective of the brand to continue that into 2019 and beyond with Summit and with other events and live experiences that we're working on."